'Gotham City Sirens' Could Introduce Harley and Ivy's Romance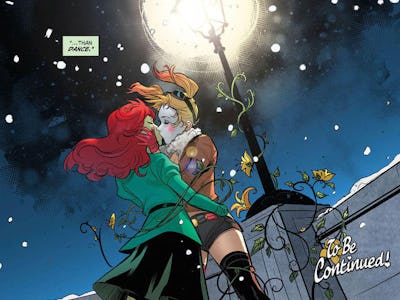 Moviepilot
There's a good chance Harley Quinn, Poison Ivy, and Catwoman will be teaming up for the newly announced Suicide Squad spin-off Gotham City Sirens. The story will most likely be based on the DC comic series of the same name, which has the trio of big-time DC baddies uniting as partners in crime. But the possible combination of Harley and Ivy in the same movie raises questions about whether or not Sirens, directed by David Ayer, will introduce the pair's well-known romance-that's-not-a-romance.
That's the way that DC always termed it, at least. The two were together "without the jealousy of monogamy," according to an official tweet in 2015 when fans of the Harley Quinn series kept pestering the writers online. Harley and Ivy shared their first official kiss in DC's Bombshells, which acts as a throwback to an alternate World War II where female DC characters (including Harley and Ivy) fight on the front lines.
The kiss was deeply romantic, and officially solidified the pairing as canon. But Harley and Ivy have since broken up, a move that left many a DC fan reeling.
Before the breakup, Harley and Ivy were in more of an open relationship than anything monogamous, per the Harley Quinn writers's tweet. Despite the two of them living together, they would occasionally hook up with other characters. As Ivy once said: "I'm happy when [Harley's] happy."
Their relationship was venerated by fans for its proof that Harley was capable of complex, emotional relationships, and even further proof that happiness can be found after a toxic relationship after all.
That toxic relationship refers, especially, to Harley's long-standing relationship with the Joker, which is where this circles back around to the upcoming Gotham City Sirens film.
Margot Robbie's bubblegum version of Harley will be returning to the big screen with this Suicide Squad sequel-spinoff. The problematic, abusive relationship shared by Harley and Joker was, once again, held up as an ideal in Squad — a "cute and creepy" romance that centered around emotional (and physical) abuse.
The harmful relationship was romanticized, and Robbie herself often spoke out against the abuse. She told The Washington Post: "I just didn't understand how [Harley] could be such a badass and then fall to pieces over some guy. I found that really frustrating. Fans seem to really love that about her, that she has this complete devotion to a guy that treats her badly."
With the likely addition of Ivy to Harley's storyline, she might be the thing that pushes her away from Jared Leto's crazed version of the famous Joker. They could start a truly whirlwind romance with their pal Catwoman joining them on dastardly adventures. It would actually be perfect, and much, much healthier.