The Best Mobile Games of 2016
A bit of brightness in a gloomy year.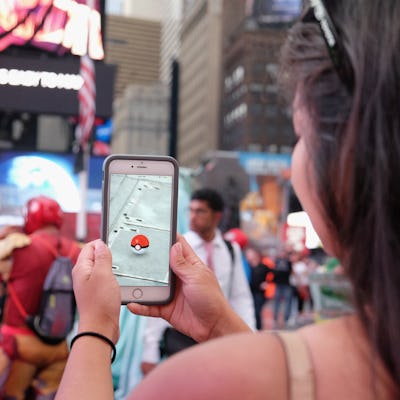 Getty Images / Mike Coppola
It was quite a year in the mobile side of the industry. Plenty of games from indie developers, big names like Halfbrick, and even some PC and console ports all made their debut on iOS and Android this year. There's so much to choose from, and 2016 is honestly bursting at the seams with incredible mobile experiences.
There's a little bit of everything for everyone, too. From endless runners to puzzle games to Tinder-like royalty management sims. The following isn't exhaustive, but it is relatively all-encompassing in terms of what kinds of experiences iOS and Android have to offer. There's never been a better time to play games on smartphones.
Love You To Bits
Love You To Bits makes you rethink the point-and -click adventure game, abandoning text-based exposition and inventory management for clever puzzles contained within a series of levels. You're on a mission to collect the bits and pieces of your robot girlfriend that have been sprinkled across the galaxy after she's been sucked into a wormhole. It's a charming story tied to a colorful, well-imagined universe that's a delight to explore.
Reigns
Reigns caused a stir when it was introduced this year as a game that melded Game of Thrones and Tinder together to create an oddly addictive cocktail. You'll need to keep the populace happy while making sure that the army and the church are satisfied as well. There's a lot of political wheeling and dealing paired with resource management as you try to keep the royal coffers from running dry. Well written, dark wit completes the package.
Samorost 3
Samorost 3 is the first in the series to come to mobile, the previous two entries being flash games from the early 00s. It's an interstellar journey to try and put a stop to a force threatening the entire galaxy. Players assume the role of Gnome, who travels from planet to planet exploring beautifully wrought worlds that resemble organic, plant-like growths. You'll meet a fascinating cast of characters along the way. Samorost 3 throws puzzles at you that are challenging, but rewarding. It's without a doubt one of the most unique experiences on mobile this year.
Pokémon GO
Pokémon GO is divisive, without a doubt, but theres no denying its impact. Niantic Labs used Ingress as a skeleton for this AR Pokémon catching game, creating a huge frenzy this summer as the game seized the country in its grasp. Despite a number of design flaws and frustrations, Pokémon GO stands out for its ability to encourage people to explore and learn more about their neighborhoods while working with random strangers to become champion Pokémon trainers.
Severed
Severed is one of the most unique titles to launch on mobile in 2016, with its mesmerizing yet horrific artstyle and understated story. Severed tells the tale of Sasha, a girl trapped in purgatory trying to save her loved ones from an eternity of suffering in limbo. Armed with a one-eyed sword, she explores a series of labyrinthine dungeons, solving puzzles and fighting enemies along the way. The game makes great use of the platform's touch controls as you swipe and tap, managing time and racing to destroy groups of enemies as they confront you. It's a story well-told and a dungeon crawler that will find exciting ways to surprise you at each turn.
Mini Metro
Mini Metro, a subway management game of sorts, sounds terribly boring in theory, but in reality is an accomplished puzzler. Connect stations with skill to ensure that your metro network is running as efficiently as possible. Its simple, iconic design is easy on the eye, especially when your little metro system expands into a complicated urban sprawl. Things get quite challenging as your network expands and you have to accommodate larger crowds of people, but the game is always fair.
Vulture Island
This clever take on the retro platformer allows players to switch between different characters with different abilities. You'll need to explore each level carefully to find all that's hidden there, and you'll even need to return later on to solve puzzles and open gates once you've found tools or abilities to help you access what was once locked away. What could easily be another generic retro riff is actually quite smart, with excellent, non-linear level design and entertaining characters.
Chameleon Run
Mobile may be inundated with endless runners, but Chameleon Run easily makes a case for itself. You control a set of colored blocks, jumping from platform to platform using the game's flawless controls. The catch is, you can only jump on a platform that's the same color as you, so you'll have to think ahead, tapping the left side of the screen to change to the correct color before landing. It's tough, but the cerebral aspect of what could be a very pretty, generic endless runner makes Chameleon Run some of the most fun we've had on mobile this year.
Lost in Harmony
Lost in Harmony is gorgeous in every regard. Set to an orchestrated soundtrack, the game is a combination of both endless runner and rhythm game. Every action you take must be in time to the music. The game's fantastic story keeps the pace, pushing you forward to its climax. We don't want to spoil anything, but we can say it's one of the most affecting stories in a game we've seen this year.
Solitairica
Having played Solitairica, it's safe to say that plain old Solitaire still has a few tricks up its lonely little sleeve. This reimagining of the classic card game drops you into a Dungeons & Dragons-esque world. The familiar rules of Solitaire apply here, but the addition of spells, HP, and other RPG mechanics add some much needed zest to the game. Every time you turn over a card, the monster you're fighting has a chance to attack, upping the stakes a bit as you struggle to clear your deck. It's unique, funny, and delightfully nerdy.