Lucasfilm Files a Trademark Request for 'Star Wars Forces of Destiny'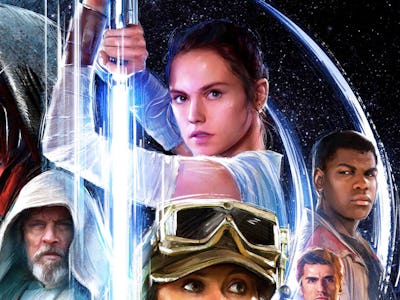 Disney
The subtitle for Star Wars: Episode VIII has yet to be revealed, but if it ends up being "Forces of Destiny," it won't be a huge surprise. New trademark filings indicate some kind of Star Wars media — whether it's a game, book, or multimedia event — will almost certainly carry the name "Forces of Destiny."
As reported by AVS Forum, Lucasfilm applied for a European Union trademark of the term "Star Wars Forces of Destiny" on December 8. Lucasfilm has done this exact same thing in the past with numerous other phrases, like "Indiana Jones and the Kingdom of the Crystal Skull" or "Revenge of the Sith" or "The Force Awakens."
Lucasfilm has also filed for these kinds of intellectual property trademarks for media terms which were not solely connected to the release of a feature film. For example, in 2002, Lucasfilm trademarked the phrase "Indiana Jones and the Emperor's Tomb," which was not a working title for the 2008 film Indiana Jones and the Kingdom of the Crystal Skull, but instead, a multi-platform video game.
But, the trademark filing for "Forces of Destiny" contains multiple Nice classifications — an international classification of goods and services established by the 1957 Nice Agreement. These classifications delineate within the EU exactly the type of product iterations which will carry the trademark. Different numbers correspond to different kinds of things. For example, the Nice classification of 9 can include "… recording discs; compact discs, DVDs and other digital recording media …" while 16 can include "… Paper and cardboard; printed matter; bookbinding material; photographs …" "Forces of Destiny" has five different Nice classifications. This means that the words "Forces of Destiny" can appear on everything from audio-visual material to leather-bound journals to cardboard cutouts.
Because the Star Wars films utilize the Pinewood Studio soundstages twenty miles west of central London, the necessity for an EU trademark makes sense. Even Brexit doesn't effect the trademark laws yet, because the UK won't be out of the European Union until 2019.
So, because of the sheer diversity of the trademark, Forces of Destiny could be definitely be the title of Episode VIII, but it also could be a different Star Wars media-thing all together. Notably, Lucasfilm has also registered the term "Star Wars Force Arena," which sounds more like a video game than a movie.
If this is the legit title of Episode VIII, the bigger question is this: why would the Disney powers-that-be use the root-word "Force" in their sequel to The Force Awakens? Sure, this time "Forces" is plural, which either suggests a clever play-on-words, or it suggests a story about multiple aspects of the Force battling against each other towards some kind of common "destiny."
The next Star Wars film, Rogue One: A Star Wars Story, opens this Friday on December 16. "Rogue One" the phrase had its trademark approved by the EU back in May of 2016.