How to Get the Most from Apple's New "TV" App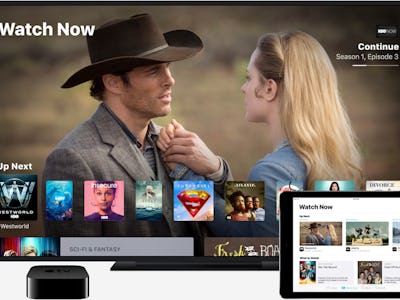 Getty Images / Sean Gallup
Apple released the latest version of iOS on Monday. Besides performance improvements, bug fixes, and slight design changes, the biggest addition to iOS 10.2 is a new TV app that makes it easier to watch television shows on the go.
Simply called TV — first introduced by Apple in October — the new app rethinks watching videos on a phone. Instead of launching an app, browsing its catalog, and then deciding what to watch, TV puts the focus on the shows themselves. It doesn't matter if they're available on HBO Now, Hulu, or any of the other apps with which TV is compatible — everything is shown in a unified screen that promises a personalized experience based on your viewing habits.
The concept is sound. People shouldn't have to remember which company has the streaming rights to what series every time they want to watch something. TV makes it so they don't have to. Just connect various streaming apps, let the app do its thing, and then check back in when you want something new to watch. It's basically a television show aggregator built right into your iPhone or iPad.
But the app does leave a lot to be desired. The most notable limitation is that it doesn't support Netflix, which means that even though you can now download television shows to your phone to binge-watch offline, you're going to have to navigate to the Netflix app to catch up on The Crown.
There's also the problem of TV not actually playing the videos it hosts. Every time you pick something to watch you're shuffled to the appropriate app. This is useful, because it means you don't have to switch apps yourself, but it also means you have to keep these apps on your phone. (And that there's a slight delay between deciding to watch something and it actually starting to play.)
The TV app feels like it would've been revolutionary five years ago. Right now we've grown so accustomed to services mixing television and movies, for example, that it feels weird to separate the two. We also don't just watch television shows on our TVs — we also watch YouTube videos, stream things via Periscope, and use other apps made for the devices.
All of which means TV feels like just another layer to go through when you want to watch something. The iPhone and the iPad already have a grid full of different apps on the home screen; why bother launching TV just to be sent to one of those apps? You're going to have to do that for Netflix, or anytime you want to watch a movie on HBO or Hulu, so why not just do it all the time?
TV makes a little more sense on the Apple TV. There it can be nice to launch a single app instead of scrolling between app icons or searching for a show with the set-top box's befuddling remote. Apple also updated the Apple TV's software with single sign-on to make it easier for people who haven't cut the cord to sign in to all the services to which their television provider gives access.
The app also has the benefit of making more sense than Apple Music's confusing layout or getting more attention than Notes and Reminders. It also isn't hidden, either, like some of iOS 10's best features. TV hasn't yet reached the heights of Bedtime — the coolest new feature of iOS 10 — but it's got potential.
TV is built right into iOS 10.2 along with more than 100 new emoji, a slightly better design for Apple Music, and other subtle improvements to the operating system — at least in the United States. Other countries will have to wait for the app to expand.