Elon Musk Is Expected To Attend Trump's Upcoming Tech Meeting
Musk will join other tech industry executives at Trump Tower on December 14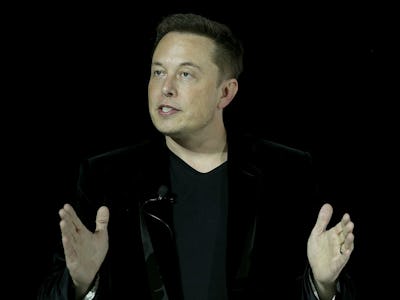 Getty Images / Justin Sullivan
Last week, President-elect, Donald Trump, revealed he will meet with several giants in the tech industry on December 14, including Apple CEO Tim Cook, Microsoft CEO Satya Nadella, and Facebook COO Sheryl Sandberg, just to name a few. However, one big name was missing from the potential guest list — Elon Musk.
The CEO of Space Exploration Technologies Corp. (SpaceX) and Tesla Motors recently told the New York Times he would be happy to attend, and according to a report in the Wall Street Journal, Musk will do just that.
Leading up to last month's presidential election, Musk stated that he wasn't sure Mr. Trump was "the right guy" to be president during an interview with CNBC. He also said that he didn't believe that the real-estate mogul had the sort of character that would reflect well on the United States.
Along with being the head of SpaceX, and electric car manufacturer, Tesla Motors, Musk is also an old friend of one of Trump's biggest backers — Peter Thiel. The duo co-founded PayPal, and Thiel's firm is a financial supporter of SpaceX. Thiel is part of Trump's transition team, and is helping the President-elect plan Wednesday's meeting.
The meeting will take place at Trump Tower and amid Trump's efforts to secure staff for his new administration. Several of the people Trump has tapped to work in his administration have strong ties to the fossil fuel industry — including ExxonMobil CEO Rex Tillerson for secretary of state, and Oklahoma's Attorney General, Scott Pruitt, as head of the EPA. Both men have big ties to the oil and gas industries, which the President-elect is hoping to leverage in order to create more jobs.
So far, the purpose of the meeting has yet to be announced, but speculation points to ideas on how to create more jobs in the tech industry.