Donald Trump's White Nationalist Supporters Want to Boycott 'Rogue One'
Do they even understand how reshoots work?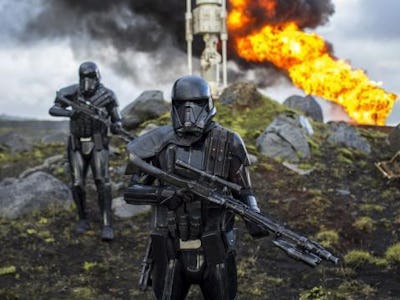 Lucasfilm/Disney
White nationalists are urging their followers to boycott Rogue One: A Star Wars Story because they believe the new film has been altered to contain a specific anti-Trump message.
Jack Posobiec — a self-described Citizens for Trump advocate — took to Twitter on Thursday with the hashtag #DumpStarWars, and claimed that the much discussed reshoots of Rogue One were done specifically to give the film an anti-Trump slant. Obviously, Prosobiec is unfamiliar with how Star Wars — or any other big budget films — are actually made. If there is any truth to the rumors that the Rogue One reshoots radically changed the tone of the film, it seems highly unlikely these changes were politically motivated. If anything, the dark cautionary aspects of Rogue One were probably toned-down, rather than made more overtly, politically allegorical.
Rogue One screenwriter Chris Weitz publicly responded to Prosobiec and called him a "liar." In November, Weitz openly showed his distaste for President-elect Donald Trump by likening the plight of Jyn Erso and her team to that of being a struggle against a racist regime. On Twitter, he posted the Rebel Alliance insignia adorned with a safety pin. However, Weitz subsequently downplayed this statement, presumably because executives at Disney/Lucasfilm were concerned about alienating moviegoers with Republican viewpoints.
Posobiec's attack against Rogue One is an obvious and pathetic, political straw man. While liberals can find parallel between the Empire in Star Wars and Donald Trump's America, that doesn't mean plenty of Republicans — who are not insane, racist, white nationalists — won't love Rogue One, and find their own political confirmation basis living in that galaxy far, far away. Because the only way for anyone to buy into this conspiracy theory would be to accept the fact that Weitz, Gareth Edwards, and everyone else involved with the creation of Rogue One had a time machine which enabled them to alter a movie well after it was finished.