Santa Claus Totally Chill With Alien Sitting on His Lap
Apparently even extraterrestrials celebrate Christmas.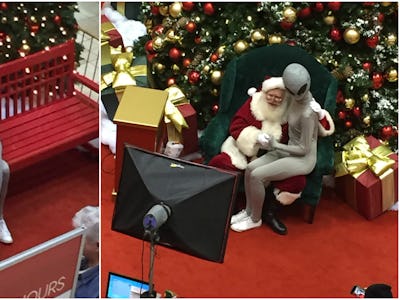 Aliens might not have chimneys in their spaceships that Santa Claus can slide down, but they apparently still have Christmas wish lists. An extraterrestrial beamed down to an Oregon mall over the weekend where she was spotted patiently waiting for her alone time with Kris Kringle. While snapping pictures of Santa with kids around the holidays is totally normal, it's quite the scene to see a visitor from space sitting on Father Christmas's lap, and the internet went into a frenzy.
Alex Pierce, who took the pictures, was visiting the Clackamas Town Center near Portland, and she was on the mall's upper level when she spotted a foreign being in line to visit Santa Claus.
"I thought it was hilarious and awesome, so I stuck around for a few minutes while she waited for her turn to sit with Santa," Piece told Inverse. "She was chatting with someone while waiting in line, and I'm not sure if they worked with the photo company, or if they were her friend, but they seemed really chill about it all."
She posted the pictures to Tumblr, and they quickly racked up almost 70,000 notes as of Thursday evening.
"When she got up for her turn to take a picture, Santa seemed really chill about it too," she says. "He smiled and laughed, and was holding her hand for the picture and everyone seemed to think it was great."
It seems like there are some viral Santa-related moments every holiday season. Last year, a kid who fell asleep on Saint Nicholas captured the hearts of the internet with his adorable pictures. And in less festive news, the Mall of America's first black Santa pissed a bunch of racists off. Luckily, it looks like this alien comes in peace … at least for the holidays.
What could the Earth visitor possibly want this year for Christmas? Perhaps a new ray gun or human probe set. Or maybe she's just like us and wants Santa to bring her some Snapchat Spectacles.
And for the mall crowd, it was just another ordinary day.
"This was in Portland, Oregon, though," Pierce notes. The town's slogan is literally "keep Portland weird."