Minnesota's Black Santa Is Pissing Off a Lot of Racists
Larry Jefferson will be at the Mall of America for four days.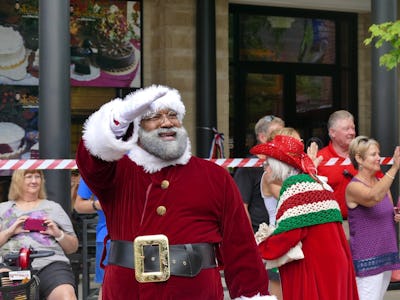 Facebook
For the first time ever, the Mall of America has a black Santa Claus. Larry Jefferson will be putting on the red velvet for the holidays, taking pictures with children at the nation's largest mall — and some people aren't happy about that. This isn't the first time that a man of color has played Santa, but it's major that the country's biggest shopping center has tapped this sort of talent in an effort to diversify. While it's a move demonstrating that Christmas's heroes can come in any skin tone, the Mall of America's decision has people divided — many are excited about the change, and others aren't so enthused.
According to the Star Tribune, the mall's organizers of Santa photo sessions found Jefferson at the Santa Claus convention. He'll be working for four days in Minnesota, then return home to Dallas to work his usual Santa gigs there. Jefferson's already pretty booked for the weekend, with many expressing interest. For the most part, everyone seems to be pretty excited about the news.
Those that appear to be supportive of a black Santa at Mall of America fall into two camps. There are those questioning why this is news to begin with, that it shouldn't matter what color Santa is. Others are more explicitly happy that there's a new representation of Kris Kringle, that it indeed does matter. A 2012 study published in Communication Research found that out of about 400 children, young white boys gained self-esteem from watching television, while black children of both genders and white girls had a decrease in self-esteem, largely because white male characters are more portrayed. It's important for children to see people that look like them in the media that they consume.
But there are plenty of people who are staunchly opposed to the idea. The Star Tribune had to turn off comments on their story. It appears that people were using the discussion area to voice their aversion. But people are still doing this on the newspaper's Facebook post.
This isn't the only time that the reimagining of a fictional character as a race different from its first portrayal has caused ire. Back in 2015, the Fantastic Four reboot faced unwarranted criticism for casting Michael B. Jordan, a black actor, as the Human Torch. The same happened when a black actress was cast as Hermione for Harry Potter and the Cursed Child.
In the future, it's likely kids will get to encounter more Santas that don't fit the typical white man framework. This hopefully will lead to a time where people can think of the most revered fictional characters in forms that are beneficial to children's development.