10 Dumb Christmas Gifts for That Dickhead Friend Who Sends You Memes
Here's how to make a message board bro happy.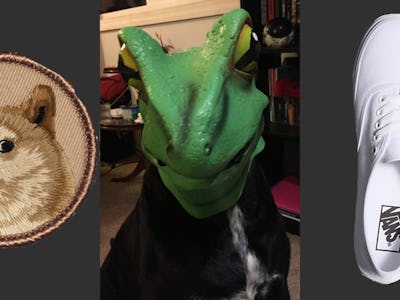 Twitter
Everyone has that one friend who's totally obsessed with the internet and stays up sending memes at 3:12 in the morning on Instagram, Twitter DM, Facebook Messenger, text, and courier pigeon. They're the friend who, whenever you show them a meme, they're like, "Oh, yeah, I saw that on Tumblr four months ago." They're the friend that enunciates the "el-oh-el" and drops online jargon into offline conversations. They're garbage, but you love them anyway.
After all, even if the constant cultural mastication makes it hard to hear what they're saying, it's helpful to have an internet oracle on deck whenever you need some viral trend explained. It feels good to know what the teens are up to — if only to be sure they're not fomenting and uprising. And for all these services, the meme lover in your life deserves a present this holiday season.
To help the quest for the perfect, slightly trollish gift, here are some ideas that both poke some fun at your dickhead friend who sends you memes, while still being totally thoughtful.
Frogs were arguably the hottest memes in 2016. There was Pepe the Frog's spiral into hate symbol status, Dat Boi, and of course Dark Kermit. But now your friend can become the meme they want to see in the world with a rubbery, green mask. And if they're hoping to roll into the new year on a unicycle, Amazon commenters have suggested some tips for safety precautions.
Such giving. Very smart. Doge might not be the freshest meme, but there's nothing more endearing than a patch with the pooch on a worn-in denim jacket. And for those unfamiliar with the meme, the wearer can just say it's their own dog. Much lying.
8. A big fur coat a la Joanne the Scammer
Perfect for the messy bitch that lives for drama. This past year, Joanne the Scammer stole her sugar daddy's wallet and meme lovers' hearts. Donning a huge fur coat is the best way to pay tribute to the con artist extravaganza while also staying warm during this winter. There'll be plenty of large fur coats at the local thrift shop — or in true Joanne fashion, you could consider scamming one from a local Caucasian.
7. Snapchat Spectacles
OK, so Snapchat Spectacles aren't exactly dumb since there's some actual use to them, but you could call them a little excessive. What's wrong with creating fire Snap content the traditional way, as in using your phone to zoom in on a friend eating a chili cheese hot dog and adding it to your Snap Story? Yeah, who needs Spectacles for that. But the meme lover in your life will probably appreciate you waiting in those long ass lines for the gadget more than anything.
6. Kermit sipping tea cap
Back in June, LeBron James caught the attention of meme lords everywhere after wearing a cap with Kermit sipping tea on it, right before the Tea Lizard scandal. Kermit has proved to be an icon of web culture by transforming into a meme more than just once. Something like a cap serves as a celebration of the frog's versatility. So if your friend loves tea, which they surely do, this hat is perfect as a symbol of shadiness and literally providing shade. There are plenty of places to buy it online.
5. Emoji pillow
Honestly, these little things are awful. Nobody really needs the corporealization of the smiling poop emoji, but it makes for a nice living room accent or carry-on pillow for air travel. While your friend might groan at the passé plush, they'll find some practical use for it.
4. Download the SelfControl app onto their computer
If your friend is super knowledgable about memes and online shenanigans, they obviously spend too much time on the internet. And sometimes they'll need some discipline, so that's where the SelfControl app comes into play. It's free, so this is more of a service you'd be providing to your friend that's too distracted by their Tumblr dashboard when they should be focusing on other things. Install the app and you can blacklist all their time-sucks for a certain duration. Your friend might go through signs of withdrawal (shrieking, excessive drooling, tears of pain), but once they get through it, they'll surely be thankful.
Damn Daniel, that White Vans impact. Your friend will be ecstatic receiving some sweet new kicks for the holidays, and more so if you go about saying "Damn" and whatever their name is in the same nasal-y voice that helped the original video go viral. They'll also feel especially cool getting to match with some pretty chill teens.
2. SpongeBob SquarePants DVDs
Meme lovers have so much to thank SpongeBob SquarePants for this past year, mainly because of two of the most relatable memes: Mr. Krabs and SpongeGar. These two cartoon characters were all the rage early on in the year. Watching some old episodes of the animated series could make for a nostalgic ode to SpongeBob's new role in adult meme lovers' lives.
1. A mug with one of their own tweets on it
Everyone on Twitter is a narcissist. No better way to have your friend enjoy that self-loving than a mug with one of their own hilarious tweets printed on it, especially if it went semi-viral after being retweeted by a pseudo-internet comedian with 15,000 followers. Unconfirmed if Kim Kardashian is getting one of these for Kanye this year.