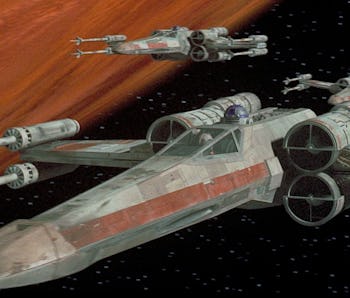 Entertainment
X-Wing Fighter Will Make Los Angeles Traffic Even Worse
Disney/Lucasfilm
As if screwing up the plans of the Empire wasn't bad enough, a pesky Incom T-65 X-wing starfighter — operated by the Rebel Alliance — will now make traffic in Los Angeles even more jam-packed than it already is. This X-wing has landed on on Hollywood Boulevard will probably remain there through the weekend.
Fans and local news in LA noticed the Rebel spaceship late on Wednesday afternoon. It's suspected this X-wing is part of the festivities around the release of Rogue One: A Star Wars Story, which will have its early red carpet premiere in Hollywood on Saturday, December 10.
According to The Hollywood Reporter, the X-wing has caused major road closures on Hollywood Boulevard which will remain in effect until Tuesday, December 13.
Last year, the Hollywood premier for The Force Awakens saw BB-8 and a platoon of First Order stormtroopers invade the TCL Chinese Theatre, likely to be the spot for this year's premier of Rogue One. No word yet if Felicity Jones will accessorize her red carpet look by carrying the Death Star plans instead of a purse.
Rogue One opens in wide release on December 16.