These Blood-Filled Drones Are Going to Revolutionize Healthcare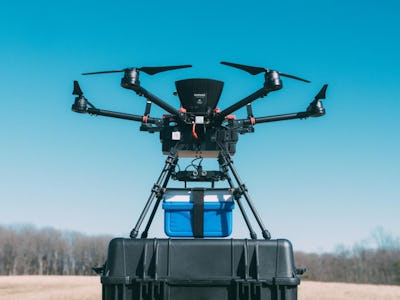 Johns Hopkins Medicine
If you ever find yourself in a medical emergency in a remote location, a drone packed with donor blood could one day come to your rescue. Researchers at Johns Hopkins University transported small amounts of blood by flying machine and found that, when unpacked at the destination, the delivery was usable for transfusions.
"My vision is that in the future, when a first responder arrives to the scene of an accident, he or she can test the victim's blood type right on the spot and send for a drone to bring the correct blood product," Timothy Amukele, assistant professor of pathology at the Johns Hopkins University School of Medicine, said in a statement released Wednesday.
The team studied six units of red blood cells, six units of white blood cells, six units of platelets, and six units of plasma. They packed two or three units at a time into a cooler, which was attached to a transport drone. The blood flew for around 25 minutes over eight to 12 miles, after which the blood was taken to a nearby hospital and checked in the lab for damage.
"For rural areas that lack access to nearby clinics, or that may lack the infrastructure for collecting blood products or transporting them on their own, drones can provide that access," said Amukele.
Many advancements in drone technology have focused on consumer-facing deliveries. Earlier this week, it was revealed that an experimental lab at Google's parent company Alphabet is working on $6 drone deliveries for fast food companies. Meanwhile, Starship Technologies is working on ground-based drone deliveries, having completed the world's first takeout delivery by robot last week.
But others are researching blood deliveries via drone. The Rwandan government has contracted American robotics firm Zipline Inc. to develop a drone network for rural blood deliveries. In June, delivery company Flirtey reported a successful transportation of fake blood via drone from the shore of New Jersey to a barge out in the water.
Amukele's team's research is the sort of breakthrough many members of the general public are unlikely to ever see, but for emergency healthcare, it could have a profound impact on how services respond to accidents.