Superhero Origin Might Be the Doctor's Fault in 'Doctor Who'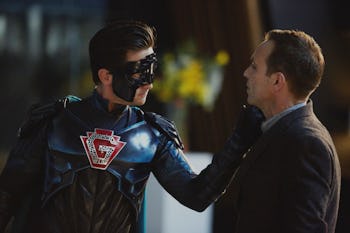 Radio Times
The Doctor might accidentally bestow superpowers upon a child this Christmas. Doctor Who showrunner Steven Moffat partially revealed the mysterious origins of the 2016 Christmas Special's superhero, the Ghost, and gave him a name: Grant Gordon.
Grant (the Ghost) will be played by Justin Chatwin in the December 25 special, "The Return of Doctor Mysterio." Little has been revealed about the hero or the plot of the upcoming episode. Until now. Moffat revealed in an interview with Radio Times on December 7 that the episode is partially about "a little boy (Logan Hoffman), who is accidentally conferred superpowers and who happens to be a comics fan and so he decides he should be a superhero in his adult years."
Moffat presses in the article: "We haven't suddenly announced that superheroes are real in Doctor Who's world. They're not." So that means superpowers aren't a common occurrence in the Doctor-bestowed version of Earth that appears in Who. But it also raises questions about how Grant came to possess his glass-shattering, flying, and super-strength abilities. The simple answer is: the Doctor, of course.
It's been proven that interaction with time travel does strange things to humans on Doctor Who. River Song somehow became a Time Lord by being conceived in the TARDIS, so it's possible that the Doctor could be involved in an accident that turns a young human boy into a superhero. Perhaps the young, superhero-obsessed Grant Gordon is granted a Christmas wish. Moffat also confirmed in the Radio Times interview that "[the episode's] got virtually no Christmas in it at all apart from the very first scene which has one solitary Christmas tree and the Doctor goes, 'Ho, ho, ho,' and that's it. We ignore Christmas for the rest of it."
Maybe the Doctor will act as Santa Claus for the first part of the episode when he's speaking to a young Grant and gift him — accidentally or otherwise with superpowers. Doctor Who fans certainly know that the Doctor has a habit of drastically changing the course of children's lives. After all, stranger things have happened on Who.