FX's 'Sons of Anarchy' Spin-Off Gets a Pilot but No Jax Teller
Mayans MC is officially happening at FX, and Jax Teller won't feature. Or will he?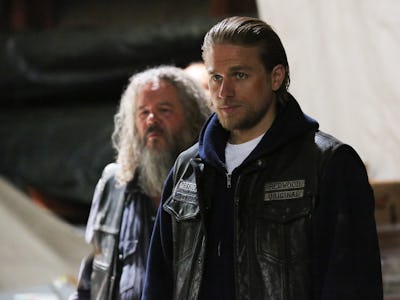 FX
A Sons of Anarchy spin-off about SAMCRO's ally — the Latino Motorcycle Club the Mayans — has long been rumored, but now it's official. FX is making a Mayans MC pilot, and it will be set after the events of the original series.
On the surface, this timeline would mean a Charlie Hunnam cameo is impossible, considering the fact that the SoA series finale left Jax Teller as smear of blood-splatter for crows to scavenge on the road. However, if we look at SoA's previous precedents, creator Kurt Sutter has left the door open for the possibility. Hunnam could either pull a Walton Goggins and cameo in a way that renders him nearly unrecognizable to viewers a la the incomparable Venus Van Dam, or Mayans MC could stray into the mystical.
Recall the mysterious homeless woman who consistently popped up on SoA whenever characters found themselves at a crossroads. Because she assumed the form of a dead woman — the mother of Brooke Punter — and traveled with ease from Charming to Belfast, the show has established that she was not exactly a corporeal human. Some fans maintain she's Jesus Christ; others think she's merely a symbol. Regardless, since the world of Sons of Anarchy has proven that it's not afraid to feature ghosts, perhaps Jax could be the Mayans MC version of the homeless woman.
Emilio Rivera, who plays Mayan President Marcus Alvarez, has already posted a teaser on his Instagram.
Even if Mayans MC does not feature Charlie Hunnam in drag or as a ghost, it's never been a better time for the Sons of Anarchy story to resonate with its unique form of crude and bloody social commentary.