The Last Four Words of 'Gilmore Girls' Can Suck It
It turns out she wasn't a contender after all.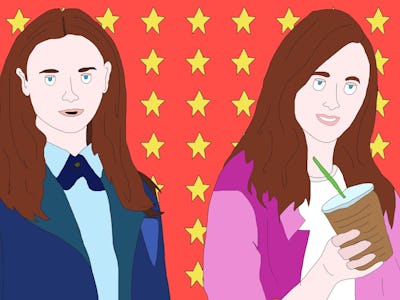 Jamie Loftus
This piece is more full of spoilers for Gilmore Girls: A Year in the Life than Lorelai Gilmore is full of coffee and references to obscure TV movies.
Over the weekend, women of America gathered as one to watch Gilmore Girls: A Year in the Life, the Netflix revival of the beloved series that ran from 2000 to 2007 on the WB. For many fans — as well as show creators Amy Sherman-Palladino and Daniel Palladino — the season provided some closure for the lead characters on the show. While Lorelai and Emily, the elder Gilmore women, are provided with a satisfying storyline that serves as an adequate conclusion for their respective characters, the Rory Gilmore we met as a precocious teenager in 2000 is nothing like the woman we saw in this revival.
Rory, what the fuck happened?
For the uninitiated, the appeal of a Gilmore Girls revival stemmed in large part from the widespread disappointment in the show's seventh and final season. The creators were not able to participate in the seventh season due to contract negotiation complications, and as a result, the direction Lorelai, Rory, and company went in that last year felt unsatisfying and dishonest to the characters that people had fallen in love with over the first half of the decade. In an interview with TV Guide at the time, Amy Sherman-Palladino discussed her disappointment in how the show ended and specified that she knew how she wanted to series to end originally down to "the last four words."
Ten years later, we have the final four words (super spoiler forthcoming), and they are from Rory to Lorelai.
"Mom?" "Yeah?" "I'm pregnant."
The four words had become an alluring mystery for fans of the show, and the series was happy to lean into it in their promotional materials for the revival. That they could be anything both drove the biggest Gilmore Girls fans nuts, and excited their imaginations.
They mark an interesting full circle moment for the series — Rory is pregnant with a rich man's baby out of wedlock, much like Lorelai had been with her, and the cycle of Gilmore women leaning into their privilege or rejecting it tilts once more as Rory continues to accept money and favors from her wealthy grandmother. It leaves the series open for another revival season for Rory, even when Lorelai and Emily's stories seem to conclude — Lorelai and Luke finally get married, while Emily copes with the death of her husband by retiring to a simpler, purer life in Nantucket.
Rory's trials and tribulations at 32 are hard to watch, transforming a character who began as a precocious teenager starting at a private school in 2000 to a sentient thinkpiece on millennials taking advantage of the leg up they are given in life. In the new series, she's been a freelance journalist with few triumphs for upwards of a decade, never went to grad school, has a drag of a boyfriend she cheats on constantly, most notably with her fabulously wealthy (and engaged) college boyfriend Logan Huntzberger. She doesn't have an apartment and uses money that seemingly comes from nowhere to fly back and forth between New England and London, staying at various times with Logan, Lane and her family, Lorelai or Emily — people who have their lives together, unlike Rory. In some ways, it feels like what may have happened to Rory in Season 8 as a recent college grad, but seeing her use the money and favors of others ten years on to build a career she doesn't seem particularly excited about only to get pregnant with Logan's baby is a disappointing ending for a character that many young girls modeled themselves after in the season's early years.
To fully understand the raw, visceral, kegel-inducing anger that I feel for the shell of Rory Gilmore that we see unravel in the revival, we've got to backtrack to 2000. Rory Gilmore was always a little overhyped by the people in her life as the doe-eyed genius who can do no wrong, but she was an easy character to root for; she was raised by the one-woman band of a single mom Lorelai, in a comfortable but not elegant middle class home in Stars Hollow, Connecticut,. As an eight-year-old kid watching with my mom, aunt, and cousin — a weekly ritual — our mothers were just as quick to point out Rory's Harvard ambitions as something to idolize as they were her romantic misadventures. I swiped a copy of The Portable Dorothy Parker from the school library permanently because of the one that Rory brought to her first dance at Chilton, learned who Condoleeza Rice was, and started to think that a teenage girl wearing khakis all the time could be considered a rational fashion choice.
Then, a change started to take place when Rory left home, started at Yale and started dating the loathsome Logan Huntzberger, so smugly played by Matt Czuchry that one cannot help but want to shoot him with a harpoon gun every time he appears onscreen. Rory has an extramarital affair with Dean (who someone gets more hunky and dumb with each passing season) at the end of her freshman year, then takes a trip to Europe with her grandmother to avoid the fallout, steals a yacht, drops out of Yale to live with her grandmother, and goes back to school. After she graduates, she seemingly lives paycheck to paycheck for the next ten years while somehow maintaining the standard of life she'd gotten used to via the wallets of the elder Gilmores and Logan. Lorelai continues to sustain herself and support Rory in her dreams, but it's not charming to hear "I'm moving home!" from the 32-year-old Rory like it was a decade ago.
"I had rules, and work, and rules," Lorelai says to Rory in the second episode of the new season, when Rory has her first one-night stand (just a reminder that she also has two boyfriends in different countries at this time). Rory doesn't have rules or work and since leaning into the Huntzberger lifestyle, she hasn't had to. Pitting this adult against a teenager who brought Dorothy Parker to a high school dance clearly reflects the class issues the series has dealt with since the pilot — Lorelai's insisted on complete independence from her wealthy parents and brought Rory up in middle class normalcy, but once she needs to turn to her parents to fund Rory's education, her daughter fully immerses herself in the world Lorelai has so assiduously led her away from.
As a viewer, it's important to not cut Rory the kind of slack that people in her life inexplicably do — for some reason, she is frequently referred to as a "kid" or a "girl." This is in stark contrast to the characters we saw her grow up with; Paris Geller, Lane Kim, Jess Mariano, and Dean Forrester are grown people with lives and careers that are mostly fulfilling for them. Rory, meanwhile, continues to accept the financial and emotional support of others to supplement what once seemed like an unstoppable ambition.
It's clear that Amy Sherman-Palladino is using Rory to represent the static millennial, which she further explores with the Stars Hollow's "thirty-something gang," the group of millennials who moved back home after failing at their career of choice (their mothers have a support group, too). Even still, Rory makes it clear that she does not consider herself one of them, in spite of their identical circumstances, and the people in her life generally treat her like she's above it, even when the consequences are harsh in spite of her sizable safety net.
Under different circumstances, the last four words could have been very satisfying. Maybe if Rory had had some measure of determination in her journalism career or even a semblance of a life set up for herself. Maybe if she had some sort of stable relationship. Maybe if she wasn't living with her newlywed mother and stepfather. Maybe if even one of these things were true, we could root for Rory as she navigates life for her child. As it stands, it hurts for longtime fans to see our gal so depleted of the ambition, thoughtfulness, and levelheadedness we fell in love with her for, and can't help but feel profound disappointment in the rather heavy-handed millennial cautionary tale she's become. And the fact that we had nearly a decade to dream of the possibilities makes it even worse.