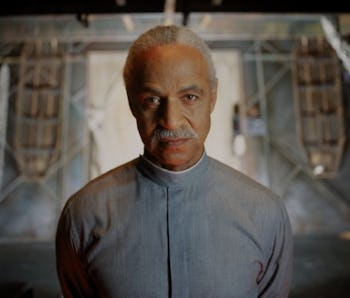 Entertainment
Firefly's Shepherd Book, Ron Glass, Dies at 71
His fellow castmates paid tribute on Twitter.  
Sad news Firefly fans. In a year where we've already lost so many beloved cinematic and music icons, Ron Glass, known for his portrayal of Shepherd Book on Joss Whedon's beloved show Firefly and its cinematic sequel Serenity, has passed away at the age of 71. No other have been released at this time.
Glass was lauded as one of the greatest actors his fellow castmates had the pleasure of working with. He was a well-known movie and TV actor, which included roles such as Detective Ron Harris on Barney Miller — a role that earned him an Emmy nomination. He also made guest appearances in a host of shows over the years, including Friends, All in the Family, Sanford and Son, and many more.
But it was his role as the white-haired Shepherd on Firefly that most people adored him for. His caring and compassionate portrayal of Derrial Book had roots in his every day life. On the show, he provided the crew with spiritual advice and in his private life, he held a leadership role in California's Buddhist community.
In a loving tribute to their dearly departed friend, the cast of Firefly took to Twitter to share their personal thoughts and memories. Alan Tudyk, who played Hoban "Wash" Washburne wrote that Glass was one of the greatest actors he had ever worked with.
Adam Baldwin, who played Jayne Cobb, shared a snippet from the show where Shepard offers sage advice to Captain Malcolm Reynolds, saying that Glass was a kind and gentle soul.
Serenity's beloved Captain, played by Nathan Fillion, and its doctor Simon Tam (Sean Maher) expressed their love for their friend.