Kenny Baker, the Man Behind R2-D2, Has Died at 83
Baker was responsible for the droid's controls and sounds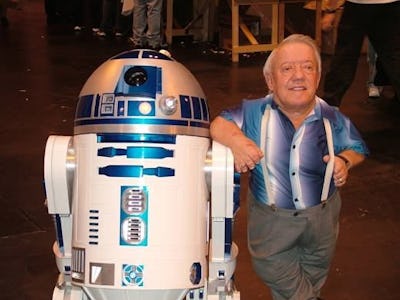 Kenny Baker, the three-feet, eight-inches-tall actor who brought R2-D2 to life in the iconic Star Wars films, died today at the age of 83 after a prolonged illness. Baker assumed the role of R2-D2 for the first time in 1977, and went on to play the droid in both Star Wars trilogies. While he didn't reprise his role for The Force Awakens, he participated in the film as a consultant.
Baker's niece, Abigail Shield, told The Guardian that her uncle's death was "expected, but it's sad nonetheless. He had a very long and fulfilled life. He brought lots of happiness to people and well be celebrating the fact that he was well loved throughout the world."
Baker was responsible for operating the droid's controls and sounds using a small panel on the inside of a very cramped space. "Kenny's own feet went part-way into R2-D2s so that he could rock it," said John Jostins, who helped build a more advanced version of R2-D2 in the '80s. "And he didn't actually sit in it – we installed a modified child's car seat at an angle, so he sort of semi-stood."
The original R2-D2 costume was designed by Tony Dyson, who also passed away in March.
The actor also played a second role in Return of the Jedi as Paploo, the Ewok who steals an Imperial speeder bike:
In the final years of his life, Shield said Baker struggled with lung problems and was often in a wheelchair. While he wasn't able to attend the Los Angeles premiere of The Force Awakens, he did manage to see George Lucas once more in Manchester. In an interview from 2014, Baker said if he'd known what he was "getting into" with Star Wars, he "would've done it for nothing because they were broke at the beginning, they didn't have a penny."
The Birmingham, UK native got his start in show business at the age of 16 when he joined a traveling troupe called Burton Lester's Midgets. And with that, he began a long and varied career in performing that included a stint as a clown and shadow Ringmaster with Billy Smart's Circus and his own musical comedy act, The Mini Tones. Beyond the Star Wars franchise, Baker is known for appearances in beloved films like The Goonies, Time Bandits, and Flash Gordon.
You'll be missed, Kenny Baker.