R2-D2's Creator Has Died
Tony Dyson's body was discovered but no foul play is suspected.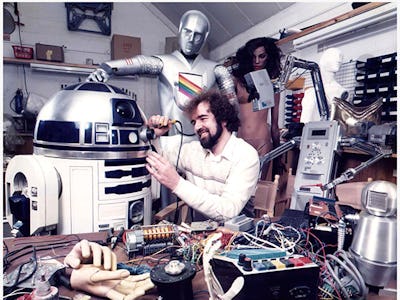 The man who built the original R2-D2 robot for Star Wars, Tony Dyson, has died at the age of 68 in his home of Gozo, Malta. Dyson had been missing for several days when his body was discovered; although police have launched an investigation, they do not suspect foul play.
His legacy will certainly live on in the Star Wars universe, as Dyson is responsible for one of science fiction's most iconic characters. This is a huge bummer for fans, and not too disconnected from concerns that another main character may be bowing out soon.
In an interview with GeekWire in 2015, Dyson said this of getting a start in films:
"They told me I should go to Pinewood Studios…There was a Bond film I did some model work on, Moonraker, and I did the spacemen models on that. It was really my first job. That basically led back to Bray Studios, where they told me that Star Wars is going to come up. The method I was going to use to mold [the robots] was based on rocking horses. And because of my molding for rocking horses, they decided I would be the perfect person to take on the robots."
"I made eight of them [R2-D2s], all doing different things. Some were remote-controlled, some computerized – they all had different functions. It was more based on special effects, and not robotics specific. We'd get whatever was on the director's list and achieve those qualifications, and that led to R2-D2."
In the same interview, there's a delightful question that seems too good to pass up (I love when people get asked about other creations they never worked on). When asked what robot he wished he could have designed, Dyson said: "Johnny Five, the robot from Short Circuit. I thought that was an amazing robot. They build this fantastic scissors-type design so he could raise himself to 7- to 8-feet high, then bring himself very small again. A beautiful design."
Dyson's contribution to the Star Wars universe is so fantastic, that it looms large over a multi-decade franchise, and even plays a major role in the most recent episode Star Wars: The Force Awakens. R2 is perhaps the only character to appear in all seven films, which says a lot about the enduring love of its creator.