JSW Plans to Bring Electric Cars to India to Reduce Pollution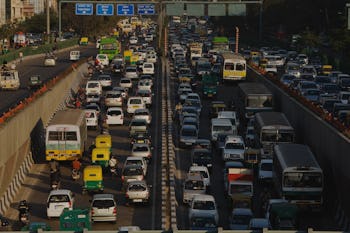 Getty Images / Daniel Berehulak
India is the world's third largest polluter, right behind the United States and China. In order to cut down on the amount of greenhouse gas emissions, one company aims to bring affordable electric cars to the nation. As the Modi government bolsters support for non-polluting vehicles, the JSW Group — an infrastructure powerhouse — announced its plans on diversifying into electric car manufacturing.
Despite government incentives, such as reduced taxes, most of the people of India have not been quick to jump on the electric car bandwagon, mostly due to high costs and the nation's power deficiency. Currently, there are around 20,000 electric cars in India, and in order to drastically reduce the country's carbon footprint, the Indian government would like to see that number rise to around 7 million by the year 2020.
Currently, Mahindra and Mahindra is the only Indian firm that manufactures electric cars, and JSW hopes to break that monopoly. However, the company has racked up a substantial amount of debt through its infrastructure ventures. It's hopeful that through government assistance, and its own supply of steel that the company can produce a more cost-efficient vehicle.
Nitin Gadkari, India's Transport Minister, has endorsed JSW's plans after visiting U.S. electric car maker Tesla Motors earlier this year. During his visit Gadkari reportedly offered Tesla help in setting up plants in India.
In order to make their electric car dreams happen, JSW has assembled a team of eight officials to lay the groundwork for the new automobile venture. According to Reuters, Sajjan Jindal of JSW has been interviewing multiple Indian-born automobile executives, including one Nissan official, to head up the new division.
This new CEO will likely get the ball rolling in 2017, but there are a lot of details to iron out, including working with ministry officials to secure financial assistance as well as establishing plans to build charging stations throughout India.