'Search Party' Created a Perfect Simulation of Hipster Brooklyn
A pop-up shop in Williamsburg was scary accurate for the audience.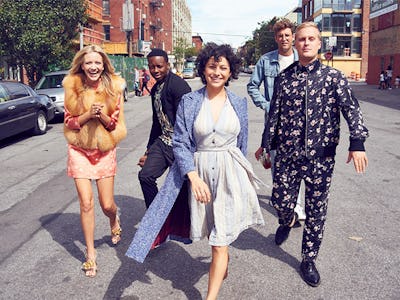 When I received an invitation to visit a new pop-up marketplace in Brooklyn that declared itself a "part shopping destination, part interactive experience" that was guaranteed to be "100% FOMO-worthy and Instagrammable," I was very, very excited. The event, with curated goods "inspired by this generation," was being put on in support of the new TBS comedy Search Party, and as I made my way down Bedford Ave, I was already preparing to arch my eyebrow and scoff at the latest lame, corporate-driven attempt to co-opt and monetize late millennial, hipster culture.
What I found instead was far more upsetting: They got it really, really right.
The space was tastefully decorated with long tables and shelves made from reclaimed wood. Local retailers had set up neatly arranged displays hawking high-end items you'd buy for a mature friend you don't know that well, but wanted to impress. It was like a Restoration Hardware, but for smart and media-savvy millennials in their late 20s or early 30s. There were displays of Field Notes journals, which are extra fancy notebooks; skincare products from Malin + Goetz, a Swedish company that calls itself an apothecary; instamatic cameras that take terrible-but-stylish photos from some place called the Impossible Project; and a bunch of twee stickers and fridge magnets featuring cartoon fruits and animals from a design company called smallhome.
Much of the space in the middle of the main room was taken up by books supplied by the Strand, and the reading list felt ripped from the pages of New York Magazine's book section (incidentally, the magazine was a sponsor of the event). Titles from Colson Whitehead, Zadie Smith, Amy Schumer, and Haruki Murakami were prominently displayed in the center of the main table, signifying a sort of cosmopolitan liberal intelligence and self-awareness. Abbi Jacobson's hipster coloring book and St. Marks is Dead added an edgier element to the table, and Ta-Nehisi Coates's "Black Panther" comic indicated that it was okay to like geeky pop culture, because it could also be sophisticated.
I was astounded by it all, and that was even before I entered a back room, where a famous local tattoo artist was giving free ink to people with a whole lot of nerve. There was also a photo booth and a rerecreation of a shabby chic living room featured in the show, with oil paintings of its stars (including Alia Shawkat and John Early) and a record player with a Broad City vinyl. Over the weekend, the shop hosted a podcast recording by the WNYC duo 2 Dope Queens, made brunch available to visitors, and allowed people to binge-watch all 10 episodes of the series.
The people who had planned this event had absolutely nailed it, creating a living fantasy catalogue for people who are making good livings as graphic designers, or hope to get to that point after their internships are over. It helped that an entire generation has lived each day of its life online, creating a trail for smart programmers to follow.
"As marketers, we do a lot of audience targeting and defining who we think would watch the show, and then look at other products, using data from Facebook and other sources," Melissa Chambless, the SVP for brand marketing at TBS and TNT, told me. "We ask what other things are these people following on social media platforms or talking about? Really trying to play in those ways where it would actually be relevant to their lifestyle."
It also helped that the show was made by Charles Rogers and Sarah-Violet Bliss, whose film Fort Tilden was the most sour (and spot-on) satire of young hipsters I've ever seen. For the show, they built characters whose backstories and tendencies informed the marketing and curation of the pop-up event.
"It's a mix of data and gut," Chambless said. "You have people who work on the show, that get this lifestyle. We took a ton of inspiration from the show itself. The characters wear a lot of Opening Ceremony in the show, so we wanted them to be a part of it … If you want to reach a young audience, you need to have a team that's living this lifestyle to curate."
I'd never ascribe any real meaningful ideology to hipsterism, and I'm not even sure I'd call it a movement. It is more — especially at this point — an aesthetic. And it's always been mockable; long before big condo towers in Williamsburg were even a diabolical sparkle in real estate developers' eyes, Robert Lanham was lampooning his friends and neighbors in The Hipster Handbook, a satirical guide to what was "deck" and "fin" back in 2003. But the truth is that beneath all the easy jokes about skinny jeans and ironic t-shirts, the "lifestyle" began for many as a necessity, an adaptation to entering the real world during the Bush administration, when the economy was stratifying (and later, crashing). People wore vintage clothes and moved into once-dicier neighborhoods like Williamsburg and Bushwick because they were more affordable options (it's fair to criticize the gentrifiers, but it's really a result of downward pressure on everyone).
I moved to Brooklyn in 2008, and Williamsburg has changed immeasurably since then (I lived in Park Slope so I can pretend to not be part of the problem). Williamsburg's once-open waterfront is now blocked by high-priced condo towers, "vintage clothing is a luxury item, and on the block where the "In Search Of" pop-up event took place, there is both a Whole Foods and an Apple Store. But it took a village to gentrify a neighborhood. The summer I moved here, the concerts on the waterfront were attracting multiple food trucks and savvy politicians like Senator Chuck Schumer, now the Democratic Minority Leader. Real estate developers and expensive brunch spots then crossed the East River.
A few years later, TV shows began trying to capture the burgeoning millennial market, and Comedy Central scored a hit with Broad City. Abbi and Ilanas faces are still plastered across much of the neighborhood, and their catch phrase, "Yass Queen," has now been accepted into the lexicon, creating a feedback loop of sorts. HBO's Girls, too, spoke to a generation, and Lena Dunham has a whole newsletter filled with her favorite things now.
But no simulacrum thus far compares to the shocking accuracy of the Search Party pop-up and marketing campaign. The items in the shop felt like they were assembled during an afternoon strolling down Bedford Ave, the aesthetic ripped from the design magazines available for perusal in the Whole Foods checkout line. Chambless said they found that artisanal, handmade goods were of particular interest to the demographic they were aiming at, and the storefronts of bespoke jewelry stores along Bedford make it clear that they had the profile correct.
It wasn't the Pepsi-sponsored revival of Woodstock, or the corporate commoditization of hip-hop, but it felt like an important moment. Again, without attaching too much meaning to a small subculture of hipsters, it was nonetheless jarring to see a generation that prides itself on its idiosyncrasy absolutely nailed down by a small team of marketing experts. It comes as no surprise, really; this always happens, and I don't think a group of people who grew up with the word "brand" so prominent in its vocabulary actually cares all that much. But it's still unsettling to see the world in which you live — no matter how much you make fun of it yourself — so cleanly encapsulated in one small space. The confused, make-do hustle of a group of young creative people has become an aspirational lifestyle, now exportable to the rest of the country. History repeats itself.
Search Party is now streaming on TBS.com.