Inside 2016's Most Violent Virtual Reality Party
The studio behind 'Venture Brothers' and 'Son of Zorn' let me go on a rampage.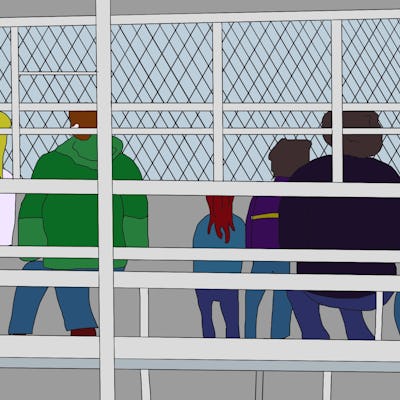 Jamie Loftus
At Titmouse's annual Smash Party, chaos was the theme of the evening, and after two weeks of political frustration, the Los Angeles crowd was more than ready to break some shit.
The sixth annual edition of the party, thrown by the studio behind The Venture Brothers and other animated hits, once again required guests to sign a waiver before even entering the door. They have to cover their asses, because the party encourages chaos. Guests are asked bring old electronics and furniture to the party, and when they arrive, they can drag it into a gigantic metal cage and smash the hell out of their old shit as onlookers cheer from metal bleachers. To encourage aggression, free beer is distributed all night.
"I needed this!" declared a flannel-clad hipster as he took a hammer to an oversize television straight out of the '90s. Choruses of "Hell yeah!" and "Fuck Trump!" came from an audience too cool for their own good, slurping down complimentary Rolling Rock in peace amidst the industrial destruction.
Titmouse is best known for its work behind contemporary animated classics like Son of Zorn, Metalocalypse, and Super Jail!, and it's now moving into the VR space. How's this for meta: The party this year was promoting a VR game that was in turn inspired by the annual event; they're both called Smash Party, and the VR experience is currently available in beta.
At the party, a line wound around the corner to test out the game, which as logic dictates, allows people to smash the shit out of things in a digital simulation. It was a worthy warm-up for the cage itself, an exercise in catharsis most people didn't realize they needed until it was already happening.
For those who weren't into violent catharsis (I suspected they were monks), there was a juggalo playing standards on a piano and plenty of ping pong tables for the more genteel guests. Food trucks, photo booths, and free stuff flanked the perimeter, but everyone knew what the real honey of the event has been for years and years: the pursuit of a trophy for the best smash.
Other people watched the smashing in pure awe, like they were witnessing something they had only heard about through the grapevine of the SoCal comedy scene. Smash Party has a very storied history already, and participating in it felt like being part of a bigger legacy.
As one half-drunk attendee relayed, this year's Smash Party was a "party from the future" — everyone there had the option to either connect with their fellow dweeb and take the hammer to any of the dresser drawers, old appliances and inevitable inflatable Trump dolls in the real world, or blow off some steam in the fourth dimension. The feeling of relief in the air was palpable as hundreds of people were presented with some constructive action to funnel their frustration into.
On a weekend when it felt like there was nowhere to escape the political climate, Titmouse provided welcome reprieve where, for a few hours, you could break shit without consequence.