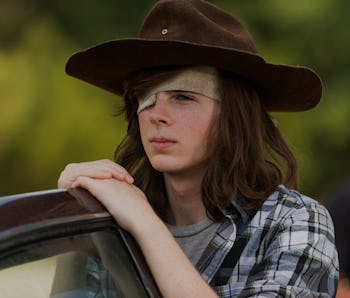 Entertainment
Carl Is on a Collision Course with Negan on 'The Walking Dead'
AMC
Differing from the comic book source material, AMC's The Walking Dead ended this week's episode "Go Getters" with Carl (Chandler Riggs) hiding in a truck headed towards the Saviors' compound where Negan (Jeffrey Dean Morgan) resides, resembling issue #104 of Robert Kirkman's series. Having grown as a character, especially this season, the next few weeks will be especially important for young Carl Grimes.
While Carl should be safe, relatively speaking, the comics storyline the TV series is taking inspiration from will be crucially formative for him. At the end of "Go Getters," Carl accompanies Enid (Katelyn Nacon) to Hilltop just as the Saviors leave after their weekly visit. After the two kiss, capping off several exhausting months of will-they-won't-they teasing, Carl stows away onto a Savior truck. Jesus (Tom Payne), who agrees to do recon for Sasha (Sonequa Martin), also sneaks aboard, where he's surprised to see Carl.
The TV series added Jesus, who wasn't in the truck in the comic, but the situation for Carl is similar. In both versions, Carl just wants to kill the Saviors and Negan, even though he's hilariously outmatched. In issue #105, Carl kills several Saviors with Abraham's assault rifle until Dwight stops and beats him. Negan, of all people, stops Dwight, and takes Carl in for a long chat in his quarters. Eventually, Negan returns Carl unharmed to his dad Rick at Alexandria Safe-Zone, which immediately begins the next arc "March to War" in the comics.
All things considered, Carl was a hostage, but it wasn't Guantanamo for him, unlike Daryl's (Norman Reedus) current situation. Instead, Carl's captivity under Negan began a complicated mentor-student relationship, where the student wants nothing more than to kill the mentor. While Carl doesn't succeed, that won't stop him from always trying.
The Walking Dead airs Sundays on AMC.