What You Need to Know About Pro 'League of Legends' Teams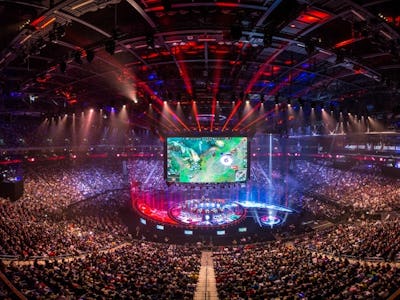 Riot Games
We now find ourselves on the cusp of the seventh professional season of League of Legends. After the 2016 League of Legends World Championship came to an exciting conclusion, people are now looking ahead to a new year of competition. Maybe this is your first time watching League of Legends. If so, you may be wondering who's who in this popular arm of the esports world.
But fear not — for we have broken down some of the best teams from last season, as well as some who may not have dominated the scene last year, but are definitely contenders to watch.
G2 Esports
G2 entered the season with humble ambitions, and ended up sweeping the EU LCS. Their success this past summer defied expectations. The team thrived on its adaptability. The team's jungler at the time, Trick, made good use of his understated, well-paced strategy to make quite a name for himself. Meanwhile, G2's mid laner PerkZ is versatile in his knowledge of many different champions. While G2 didn't do as well at Worlds, it's still relatively early days for this team, and we can expect to see great things from them in the future.
Edward Gaming
Edward Gaming is an established name in the LPL. The Chinese team is most well-known for their victory over SK Telecom 1 in the 2015 Mid-Season Invitational after an intense match. They're still trying to make their mark at Worlds, having yet to break into the top three. However, Edward Gaming's consistent performance over time might well help them out next year with even more experience under their belt.
Immortals
While Immortals didn't make it into the 2016 Regional Qualifiers, the relatively new team had a strong showing at the Spring Split before being taken down by Team SoloMid in the semi-finals. Regardless, Immortals are fan favorites with winning personalities. The team works well together, and it will be interesting to see what they've learned as a team — or what a new roster looks like — as Immortals heads into their second season.
Team SoloMid
TSM is one of the biggest names in the North American league and in professional competition overall. After a disappointing performance in the 2016 Spring LCS split, the team regrouped and tore through the NA Summer Split and Summer Finals to earn a spot at the 2016 World Championship. Though they didn't make it past the group stage this year, folks are still excited to see what TSM has in store for 2017.
ROX Tigers
ROX Tigers may have come in third overall at Worlds, but the team certainly gave champions SK Telecom T1 a run for their money in the semi-finals. In what were likely some of the most memorable battles in League history, ROX Tigers mixed things up in the Worlds semi-finals after a close first match when Kang "GorillA" Beom-hyun chose to play Miss Fortune in a surprise twist that threw off SKT for the next two games. The team put up an excellent fight throughout the season, and the battle for a spot in the World finals was a close one until ROX finally fell to SKT in their 5th match.
SK Telecom T1
SK Telecom T1 is the team to beat. This South Korean team has been dominating the playing field, claiming three World Championship titles to date. SKT boasts an ultra-competitive roster, with mid laner Lee "Faker" Sang-hyeok considered to be one of the best — if not the best — players in the world. If SKT can keep this performance up, they're well on their way to becoming legends themselves.