How to Figure Out Which Esports Team to Support
There's a bit more to it than you might expect.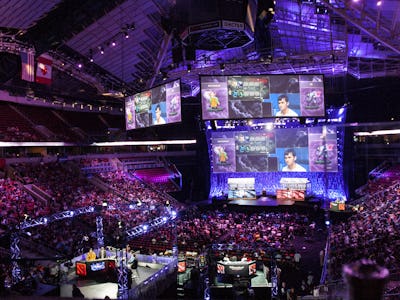 Wikipedia
From the outside looking in, the world of esports is massive and at times overwhelming. Perhaps you're familiar with the rules of a game, but feel like you don't quite have a place. To truly enjoy the esports experience, it's best to find a team to support, but there are a lot to choose from.
A major esports event is quite the spectacle, replete with thousands of cheering fans, pro-gamers hunched over glowing mechanical keyboards, the rapid-pace orations of the commentators, and, in the case of the recent Dota 2 international, even holograms. It's serious business, with an emphasis on both words. Loyal fans travel across the world to see their favorite teams and players compete in the culmination of what is often years of hard work.
So, let's break down the best ways to pick your esports team in order to participate in all that, shall we?
Focus on the game you're interested in
For a number of reasons, many teams specialize in a bunch of different games, while others tend to focus on just one. If you're coming in cold, with no knowledge of esports at all, it might be helpful to target one game that looks interesting to you. Pinpoint teams that perform well in that game and see if they're the right fit for you. If you need a jumping off point, you can take a look at recent tournament matches to get a handy list of which teams are popular and performing well at the moment. This narrows down the massive number of teams you might have to wade through, and will get you into the fray much faster.
But feel free to branch out
If you're feeling confident, it never hurts to explore all of the esports options out there. Most of the larger teams, in fact, specialize in a wide array of games. One of the more popular teams, Evil Geniuses, competes in Dota 2, Halo, StarCraft 2, and more. If you find yourself growing attached to one of these multidisciplinary teams, you'll find it's a great opportunity to branch out and explore the pro-circuit scene in other games.
If you're a beginner, it's helpful to send feelers out into games that are similar to the game youre already interested in. If you're getting started with League of Legends, for example, you might be interested in a team that also specializes in Dota 2 or Heroes of the Storm, as they're all MOBAs and do have some core similarities.
Pay attention to personality
A large factor for many when choosing a team has little to do with the actual game itself, and more to do with a person's character. This can be anything from how a player presents themselves in interviews to things they do on stage or how the players interact with each other in the day to day. You might find you have more of a connection to a player based on their background. Many people support teams because they can relate to one specific member, but if you find you mesh with more than one, then all the better.
How do you get to know people you've never met? As you start to follow a team's matches, don't forget to dig in a little deeper. Check out interviews and articles about the team. As esports continue to grow rapidly, coverage is now pretty easy to find. Most teams also have their own YouTube channels that feature documentaries and video interviews. It gives a great look into the team's daily lives and the group dynamic. You'll also find many players on Twitter and even more of them regularly stream the games they play.
One interesting facet of professional esports is the team house culture. Many teams rent out a house where they live together to practice. This can be leading up to major tournaments, or just in general during a given season. Team houses got their start in South Korea, but have become commonplace worldwide throughout many divisions. You'll find plenty of tour videos on YouTube, and what better way to learn about a team than by exploring their house?
Or, make note of a team's play style
If you have more experience with a game, taking a look at play style is something to consider. It purely depends on what you want as a fan. If you want a team that likes to goof around and quote memes, you'll probably aim for personality, but if you're all about the strategy, you'll want to study how a team approaches the game.
In the case of MOBAs, certain teams tend to favor some champions over others. You might even notice that certain regions tend to favor different characters. If you like playing as a certain hero or champion, this is absolutely something to pay attention to. Or perhaps you care more about active gameplay, preferring teams that either take passive, covert approaches or more aggressive strategies.
Twitch and other streaming services are a perfect way to figure this out, or you can choose to watch older matches on YouTube. If you need additional help, you'll find plenty of videos with commentary and recaps that really analyze what's happening in a match.
Be aware of rotating team rosters
Before you get too attached to specific personalities, it's good to be aware of swapping rosters. Some esports have been experimenting with swapping players amongst different teams. Big names in the industry like Team Secret and Evil Geniuses, for example, swap Dota 2 players fairly regularly. Rosters change in attempts to boost performance or resolve internal conflicts. You know, like any other sport.
If you're worried about the roster of a team you're interested in, some esports enforce roster locks. For example, Valve usually enforces a roster lock system during the Dota 2 Majors, meaning teams can only drop or swap around players up until a set date. A second round follows in which teams can invite new players by a specific date, but can't drop current members. Once that date passes, the team is locked for the rest of the Major.
Teams that do swap are still hugely popular, so if a team seems like a good fit even though you're worried about consistency, it doesn't hurt to follow them. Some esports specifically have team captains or managers that remain throughout major swaps, and the core identity can often remain the same.
Esports fandom is expansive, to say the least. Jumping in feet first is intimidating, but you'll be rewarded with a rich hobby and a passionate community. If you still need convincing, take a look at the impressive range of subreddits dedicated to each division in esports, where fans gather to discuss matches, teams, and players. There's a plethora of beginner guides and people willing to mentor. Allow yourself to be drawn in! It's the only way to really figure out which team is for you.