7 Reasons to Stay on Your Couch This Weekend
A magical weekend streaming list in honor of the premiere of 'Fantastic Beasts and Where to Find Them.'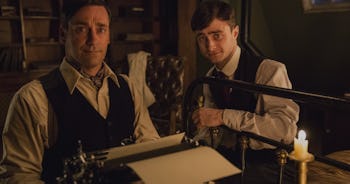 USA Today
This weekend marks the release of the next Harry Potter universe installment, Fantastic Beasts and Where to Find Them. Newt Scamander and his newly acquired American friends will take on dark magic, the Magical Congress of the United States of America, and a gaggle of beasts that have escaped from Newt's briefcase. Between Johnny Depp's role as Grindelwald and skepticism about what to expect from the next four movies in the Fantastic Beasts series, the lead-up to this weekend has been intense for Potter fans everywhere.
Below, you'll find a list of excellent chasers to the high-octane shot that will be Fantastic Beasts. Inspiration for these TV shows and movies was taken from magic, New York City, and the Boy Who Lived himself, so have your wands at the ready and make sure your wifi signal is strong.
7. Master of None, Netflix
Fantastic Beasts is the first Potterverse story to take place outside of the UK. Jump from Fantastic Beasts's 1920s New York City to something incredibly modern with Aziz Ansari's (Parks and Recreation) comedy series, Master of None.
Ansari plays a version of himself — Dev, a struggling actor — and gathers his appropriately diverse group of friends around him as they drink, sleep, and entertain their ways through Williamsburg in Brooklyn. The overall message is appropriately heartwarming as Ansari takes inspiration from his past standup routines and transitions them into a narrative about being young, single, and a little lost in NYC.
6. David Blaine: Real or Magic, Netflix
As fun as it would be to believe that magic exists, the real world has to live with something a little more trick than treat. A couple specials featuring the stage magician, endurance artist, and illusionist David Blaine are currently popping up on Netflix, but Real or Magic is probably the most famous of them.
This is the special where Blaine makes celebrities scream. He tricks Harrison Ford so badly that Ford tells him to "Get the fuck out of my house," and if a freaked Harrison Ford doesn't sell it for you, then we're not sure what will. Also featured: Jamie Foxx, Bryan Cranston, Will Arnett, and Stephen Hawking.
5. Trollhunter, Netflix
"TROLL IN THE DUNGEON!" Or, in this case, in the Norwegian woods. A group of college students are looking to film a documentary about bear attacks with the help of a hunter. They soon learn that, instead of bears, he hunts trolls for the Norwegian government. Because why not?
This movie is meant to come across as a found-footage thriller, but it edges more toward comedy by the time everything is said and done.
4. Man Up!, Hulu
Dan Fogler steals the show in Fantastic Beasts, but his ABC comedy series, Man Up! only got one season. But that doesn't mean it's not stupid and weird in the best way possible as Will, Kenny, and Craig try to figure out what it means to be a "man" when you enjoy pink cocktails.
Three "modern men" try their hardest to get in touch with their stereotypical masculine sides. They spend their evenings playing shoot-'em-up video games and their days boohooing over their exes and writing songs on guitars. The best piece of advice from this series? WWTMD: What would Tobey Maguire Do?
3. Harry Potter and the Order of the Phoenix, HBO GO
Here's the first Harry Potter film that truly advocates stepping outside of the rules to do what's right. Clearly, Newt and the gang undertake some rule-breaking bounds in Fantastic Beasts, so Order of the Phoenix is definitely the way to go this weekend if you don't have time to binge all eight HP films.
2. Jupiter Ascending, HBO GO
Eddie Redmayne has a huge hand in making Fantastic Beasts as magical as it is, but this project certainly isn't his first big screen attempt. He won an Oscar for his role in The Danish Girl even after some critics thought Jupiter Ascending might ruin his chances forever and always to get any sort of award. So, of course, Jupiter Ascending is on this list.
Eddie's "some lives will always matter more than others" mantra in this film is far from Newt's personality, but the character, Balem Abrasax, is gloriously horrible. As is most of the rest of the film. It's a science fiction and fantasy hullabaloo brought to audiences by the the Wachowskis, and it's completely worth a watch if you're looking for pure entertainment.
1. A Young Doctor's Notebook and Other Stories, Netflix
In line with Daniel Radcliffe's habit of taking more indie-centric projects after he finished Harry Potter is A Young Doctor's Notebook & Other Stories. Radcliffe plays a young doctor who graduated top of his class before being sent to work at a small medical outpost in the middle of nowhere Russia. Jon Hamm plays an older version of the doctor, who tortures Radcliffe by constantly mocking his choices as he laments over his younger years.
Incredibly smart and darkly humorous, A Young Doctor's Notebook is definitely a treat for fans of Radcliffe and Hamm, who compliment each other surprisingly well.