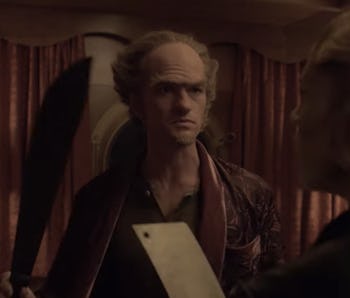 Entertainment
'Series of Unfortunate Events' Finally Gets Count Olaf Right
The humor of Lemony Snicket books is being honored faithfully.
At the end of the new trailer for Netflix's adaptation of A Series of Unfortunate Events, Count Olaf (Neil Patrick Harris) pulls out a giant knife, only to be bested by a harpoon gun. Neil Patrick Harris's hilarious sneering in this scene, coupled with his absurd disguises throughout the the trailer, are the obvious highlights. And though not all of these gags are directly taken from the beloved books by the fictional author "Lemony Snicket," the new trailer retains the macabre humor of the popular series. In other words, A Series of Unfortunate Events doesn't care if you "get it" or not.
Lemony Snicket is the nom de plume for real-world writer Daniel Handler, but also a character in the world of A Series of Unfortunate Events. Dominated by Patrick Warburton's voiceover as Snicket, the trailer attempts to infuse the series with the same sly irony which powers the books. So far, the effect is successful, though some of the hallmarks of the book — jokes about language and the meaning of words — have been moved from Snicket's voice to other characters.
When Mr. Poe (K. Todd Freeman) tells the Baudelaire orphans their parents have "perished," he quickly and awkwardly defines the word at the center of the grim news for the kids. It's funny, but perhaps not as funny as the insane overly specific word jokes from the books.
But the trailer makes it clear that Neil Patrick Harris as Count Olaf is the real reason to watch the show. Even if you haven't read the books, he's hitting a perfect balance of loveably evil and legitimately hilarious. His facial expressions in this trailer — particularly when he pulls out that knife — can probably carry the entire series.
The first season of A Series of Unfortunate Events (which will adapt the first six books) debuts on Netflix on January 13, 2017