Neil Patrick Harris Is Count Olaf in New 'Unfortunate' Teaser
First footage from Netflix's 'A Series of Unfortunate Events' is pitch-perfect.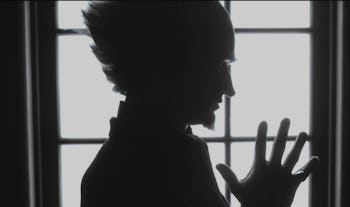 Netflix
Neil Patrick Harris captures perfectly the diabolical essence of Count Olaf from Lemony Snicket's A Series of Unfortunate Events in the first actual footage for the new Netflix series.
The 13-book series details the bizarre, macabre, and often hilarious machinations of the evil count's desire to steal a sizable fortune from the Baudelaire orphans: Violet, Klaus, and Sunny. And though Olaf is the antagonist of these books, in almost every real way, he's the star. Nearly every book after The Bad Beginning features the Count in outrageous disguises, all of which are connected to his plans to trick the guardians of the Baudelaire into giving up their unclaimed fortune. (In the books, Violet can only claim the fortune after she comes of age.)
The first teaser trailer gives us glimpses of Violet (Malina Weissman), Klaus (Louis Hynes), and baby Sunny, along with their in-sometimes in-between guardian, Mr. Poe (K. Todd Freeman). Because the first season will cover the first four books of the series, this brief trailer gives us glimpses of what could be parts of The Reptile Room, as well as at least two of Count Olaf's unsavory hench-persons. But the star of the trailer is easily the menacing — and slightly ridiculous — Neil Patrick Harris as Olaf. Because Olaf's backstory is all about him being a failed actor, it's nice to see a great actor digging into that self-delusion.
Here Olaf promises that we "haven't the faintest idea" how far he'll go with his outrageous schemes. With faithful nods to the beloved books, and a creepy, yet whimsical tone, this series is so far hitting all the right, intentionally discordant notes.
A Series of Unfortunate Events will debut on Netflix on January 13, 2017.