India Tried to Bring Brain Dead People Back to Life
But the effort was shot down, meaning the brain dead will remain dead—for now.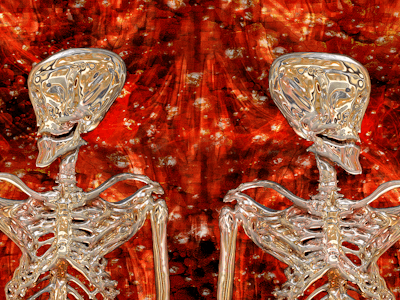 History's most scientific effort to bring back the dead has officially been shut down. The ReAnima Project — set to begin trials in an Indian hospital since being formally announced in May — was an attempt to revive brain-dead people through nervous system regeneration. On November 11, Science reports, it was removed from the country's official register of clinical trials.
The project, run by Bioquark CEO Ira Pastor and Dr. Himanshu Bansal of Revita Life Sciences, was controversial from the beginning. It involved convincing the families of 20 brain-dead patients to allow the use of their family members' brains in an unprecedented experiment: Using techniques such as injections with mesenchymal stem cells and peptides, transcranial laser stimulation, and median nerve stimulation to regenerate brain cells to bring back a state of "minimal consciousness." As expected, Pastor has had a hard time finding families willing to enroll their relatives in the trial, he revealed in an interview with The Wire in June. It's equally unsurprising that science officials have also found the project suspect.
India's Council of Medical Research is thought to have pulled the trial from its register because Revita failed to adhere to federal regulatory requirements, but it's not hard to guess at other reasons. For one thing, there isn't much scientific data backing up claims that brain death can be reversed at all. The few instances in the literature documenting recovery from brain death to a fully functional state remain controversial because scientists can't agree on what a recovered brain should look like. Likewise, there isn't much proof that a suddenly active brain can necessarily regain consciousness.
The ethics of the project posed a major obstacle as well: As Amar Jesani, Ph.D, editor of the Indian Journal of Medical Ethics argued in Science, this type of research should be tested in animal models first, and furthermore, there should be a contingency plan for dealing with the families of formerly brain-dead patients who suddenly become minimally conscious: Such an experience is traumatic.
The burden of ensuring that the ReAnima Project actually halts work — now that it's been shut down by India's Council of Medical Research — is on the country's Drug Controller General office, which oversees all clinical trials that take place in the country.
Even if it is successfully shut down in India, it's likely that the ReAnima Project will simply be relocated. As Pastor told Inverse in May, it's really only been set up in India to save money, seeing as intensive care units in the United States cost about $10,000 per patient per day, and in India, they're about $1,000 a day. Pastor, however, seems accustomed to pushback and truly believes that nervous system below the brainstem — that is, the part below that brain — can be induced to renew itself. His "Google moonshot"-like project, it seems, will simply have to find a new home.