Hiking Hillary's Post-Election Hike Was Psychology at Work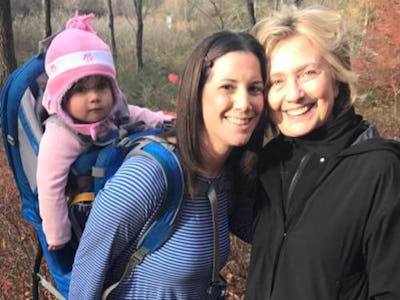 Margot Gerster/Facebook
When Margot Gerster took her daughter on a hike in Chappaqua, New York to clear her mind after the defeat of Hillary Clinton, she never expected to run into the one person who could help her do that: Hillary Clinton.
Gerster's moment with Clinton on Thursday was the first time the presidential candidate had been seen in public since her concession speech on Wednesday. But the fact that Clinton chose to spend the day outside shouldn't be a big surprise. Clinton seems like the sort of person who does her homework and she probably knows that being outside in nature comes with psychological benefits. For someone who is, to say it lightly, probably not having the best time right now, being outside for few hours is a necessary reprieve.
A study by Stanford University researchers published in 2015 in the Proceedings of the National Academy of Sciences found that walking for just 90 minutes in nature lowered levels of internalized stress and reduced neural activity linked to an increased risk of mental illness. This finding is in line with those of multiple other studies that have found that time outside lowers blood pressure, improves mood, and increases one's general happiness.
Being in nature is good for you, but if Clinton really wants to get into a post-election "flow state" she'll have to stay out even longer. In a paper presented in the Proceedings of the 2005 Northeastern Recreation Symposium, researchers announced that the "flow experience — that is, a loss of self consciousness, heightened awareness, and an "altered sense of time" — was a phenomenon felt by 62 percent of the hikers they interviewed who travelled the entire Appalachian Trail. It is also an experience that the hikers in this study reported was an inspiration for going out on the trail again.
For Gerster, the chance of running into Clinton again is an added bonus to hiking outdoors. "I got to hug her and talk to her and tell her that one of my most proudest moments as a mother was taking Phoebe with me to vote for her," she said in a Facebook post, "Now, I'm not one for signs but I think I'll definitely take this one."
It wouldn't be surprising if Clinton is spotted in the woods again, too. In her concession speech, Clinton said that the loss was painful, but she she would continue to fight for the the America she believes in. That's admirable grit — but we also wouldn't blame her if she wanted to spend some alone time on the trail first.