5 Ways a Trump Presidency Could Change the FCC
Meet the potential head of the FCC.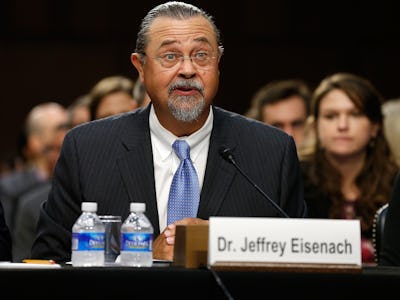 Getty Images / Win McNamee
Jeffrey Eisenach has worked for the Federal Communications Commission, the American Enterprise Institute, and other groups focused on technology regulations. He very well could be Donald Trump's pick to chair the FCC. Eisenach is on the Trump White House transition team, which could make him America's most influential tech regulator. So what might the country be able to expect from an Eisenach-led FCC?
Eisenach's writing, tweets, and public appearances offer a picture of a person who seems to deal in technological contrarianism, taking unpopular stances that go against what most surveyed Americans say they want. Like Trump, it was easier to find a list of things he hates instead of ideas he's put forth or supports.
Net neutrality regulations
Perhaps the biggest issue is net neutrality. Eisenach told a Senate committee in 2014 that "net neutrality regulation cannot be justified on grounds of enhancing consumer welfare or protecting the public interest" and that it's "best understood as an effort by one set of private interests to enrich itself by using the power of the state to obtain free services from another." He also said that the costs of net neutrality are likely to outweigh the benefits. Trump may very well kill net neutrality no matter who ends up chairing the FCC.
New York's wifi kiosks
Eisenach also isn't a fan of the LinkNYC wifi kiosks that promise to provide internet access to everyone. He told PBS Newshour in 2015 that "what you don't want is government coming in and replacing all of the innovation, all of the dynamism, all of the growth, all of the technological progress that we're seeing throughout the internet" by displacing telecoms like Verizon or AT&T with public wifi. The kiosk project is a partnership between the city of New York and a private firm and is funded by display advertising (and data anonymized data collection on browsing habits.)
The "right to be forgotten"
In June, along with several other researchers from the American Enterprise Institute, a conservative think tank, Eisenach wrote An American Strategy for Cyberspace to explore how the United States could better handle the digital era. Among the group's complaints was Europe's "right to be forgotten," (Page 18) which allows citizens to request that companies like Google remove personal information from their services, and the burden it places on American companies operating in the European Union.
Unbundled or "a la carte" cable TV packages
Eisenach also wrote a paper for NERA Economic Consulting in 2014 about a Canadian plan to let consumers pick the channels they want to subscribe to instead of being constrained to provider-selected bundles. In it, he said that falling advertising revenues, lower subscription rates for many channels, and other byproducts of giving people control over their TV subscriptions would ultimately "impose significant harm on Canadian consumers."
Expanding the FCC's powers
Despite the apparent plan to put him in some position at the FCC, Eisenach has spoken out about the agency's reach. "Depending on what happens with the net neutrality order going forward, it's very easy to see the FCC expanding its footprint down a slippery slope," he told the Washington Post in 2013. "You end up with a Federal Computer Commission or a Federal Internet Commission."
That was before the FCC adopted its Open Internet rules to promote net neutrality. Now it seems that Trump might have chosen Eisenach for the FCC for the same reason he wants to make a climate change skeptic head of the Environmental Protection Agency: To roll back regulations and make the internet, well, less great.
It's yet to be determined if Eisenach will be the FCC chair. We know that Peter Thiel, the outspoken venture capitalist and rare Silicon Valley-based supporter, will not be moving to Washington, D.C., reports the New York Times. "I'll try to help the president in any way I can," Thiel said.