Is Sarah Paulson's 'AHS' Invincibility Streak Over?
Her character finally died.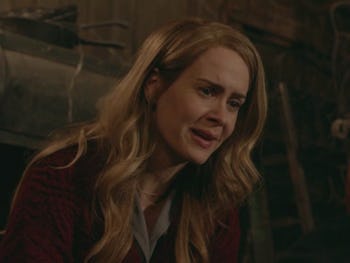 FX
There are two constants in every season of FX's American Horror Story. The first is that the story will go totally batshit off the rails at some point. The second is that series regular Sarah Paulson's character will never die.
Well, looks like Roanoke changed all that.
AHS's sixth season had already turned into a deadly reality show, since, for the most part, we've all just been tuning in to see who the sole survivor among the cast is going to be. Matt was beaten to death, Shelby killed herself out of guilt, and Dominic was butchered by the horrible pig-man.
In Wednesday's episode, Lee blows what looked like the survivors' best chance at escape by forcing Audrey (Sarah Paulson) to go look for the video tape of her murder confession. They find Monet, who had been missing, but plan goes horribly wrong, and Lee is presumed dead.
Except, it turns out she's just possessed — or maybe just crazy, but it sure seemed supernatural. Lee slaughters some random teenage hikers, burning two of them alive, and hunts down her fellow survivors. Monet is killed outright in the struggle back at the house and Audrey is brutalized and left to die.
The next day, cops arrive to a horrific scene, and they find Lee among the bodies, dazed, alive, but possibly herself again. Audrey, somehow, survived what looked like a massive stab wound to the neck and a horrific fall. But, when the cops try to help her, she spots Lee. Now, Lee might not remember what she did the previous night, but Audrey sure as hell remembers all the death and attempted murder. Audrey goes for the cop's gun, prompting the other officers to shot her.
So, after five lucky seasons, Paulson's character finally bit it in American Horror Story. However, we already know that Paulson will appear in the finale as her character from Asylum, Lana Winters, so maybe that puts an asterisk next to her death in Roanoke. She also played two characters (conjoined twins Bette and Dot) in Freak Show, and both of them survived. The numbers, it seems, are more complicated than you'd think, but all that really matters right now is that Audrey and her bad British accent are dead.