Ryan Murphy Promises "Bizarre" 'American Horror Story' Crossover
But there are some overpowering complications.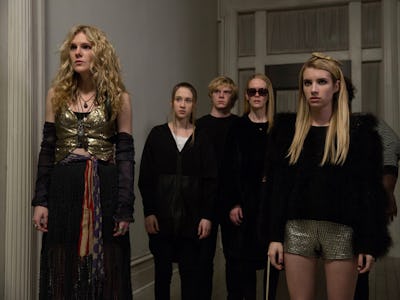 Buzzfeed/FX
American Horror Story co-creator Ryan Murphy announced Sunday that he could be combining, arguably, two of his best worlds — Murder House and Coven. We've known for a while that Murphy has been planning on "connecting" the seasons of AHS, though we haven't known how until now.
"We do know what we're going to do," Murphy said at EW Popfest. "It's not going to be next season, but we are going to do a season that's a crossover between Murder House and Coven together, which is very bizarre."
Bizarre indeed. It'll be "fun" and "weird," no doubt, but it will also combine some character personalities that, uh, we can't imagine will match up all that well. Much like the "actors" and their "IRL" companions in Roanoke, it could be a bit of a bloodbath.
That brings us to the most potentially difficult part of this crossover: There's an army of actors who were in both seasons. Taissa Farmiga and Evan Peters play starry eyed, bleeding-heart love interests in both Murder House (as Violet Harmon and Tate Langdon, respectively) and Coven (as Zoe Benson and the unfortunate Kyle Spencer). Sarah Paulson is both the psychic Billie Dean Howard (Murder House) and the Supreme Cordelia Foxx (Coven). The indomitable Jessica Lange is convincing as both the racist, cold-hearted Southern Belle next door, Constance Langdon, in Murder House and the powerful, wilting Supreme, Fiona Goode, in Coven. The list, as you may know, goes on for a while. Frances Conroy, Jamie Brewer, Lily Rabe, and Denis O'Hare all have significant parts in both seasons.
So, the question remains: How does Murphy plan to reconcile this? Both storylines take place in "modern" times, so none of them can be ancestors. They could be related. Special effects are a thing so they could technically put everyone in the same room. They could use body doubles/actors/whatever in the same way that this season, Roanoke, was originally spinning its story. There are plenty of reasons/excuses to put together two of the most popular AHS seasons. If Murphy could combine the crowd-pleasing aesthetic of Coven with the more quality storytelling of Murder House, then we could actually be in for an exceptional season in the somewhat near future.
But that's not to mention the actors who were present for only one of those two seasons. Zachary Quinto, Emma Roberts, Angela Bassett, Kathy Bates, and Dylan McDermott have all made appearances in more than one season (if not both Murder House and Coven), but essential players such as Connie Britton (who plays Vivien Harmon in Murder House) hasn't returned since the inaugural season. It might be difficult to reel some of those essential characters in for a crossover.
"I've [already] started going to actors from both of the seasons, quietly, saying, 'I think in this window, if you could fit us in,'" Murphy said at the panel. "So, yeah, its fun. It's weird."
But before we can start thinking about a crossover, we need to get through Roanoke and at least one more messy season of AHS. There's still a lot for Murphy and his team to focus on before they can do anything of this sort.