#MeanwhileInCanada Trolls the United States on Election Night 
Most people poked fun at their neighbors, but others sympathized with the country.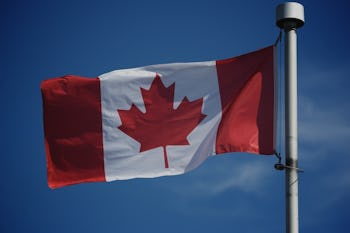 Flickr / jeff.smith
The 2016 presidential race was full of memes, whether it was making fun of Donald Trump eating a taco bowl or Hillary Clinton's attempt to connect with millennials. Even when the votes began to be counted, a Trump cake sent the internet into a frenzy of jokes and Photoshop creations. But as the numbers began leaning toward a Trump win, American's neighbors just north of the border tuned in with #MeanwhileInCanada. While people continued to jest, it also became a chance for some to show their sympathy for the destruction of the republic.
Canada has already been largely entwined with the election. It was so easy for Americans to be distracted from their own country's shit show by the suave and politically competent Justin Trudeau. And there was plenty discussion about how to move to America's hat if the results went south. Even with plenty of Americans biting their nails and in disbelief with what was happening, Canadians chimed in with their jokes about watching from the other side of the border.
While it might be infuriating that Canadians were making light of the U.S. government's downward spiral, it's only fair to point out that lots of Americans also joked around. But as things began to sink in, there was definitely a shift in tone.
Some Canadians also began showing compassion and taking things seriously, realizing that what happens to their neighbors also has some effect on their own lives.
With the night coming to a close, things aren't as fun as they were a few months ago.