The Baker Who Made That Donald Trump Cake is Having a Weird Night
Trump's hair was actually the easiest part of the cake detailing process.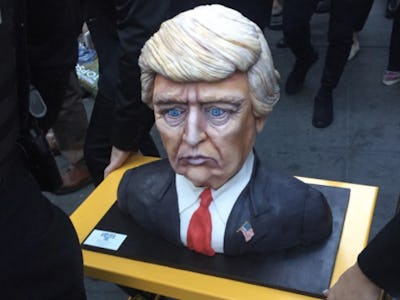 On Tuesday afternoon, ABC News reporter Jason Volack tweeted a photo of a giant cake sculpted in the form of a morose but imperious Donald Trump being wheeled into Trump Tower. The internet did not hesitated to dig in. Delighted by the sweetened version of GOP standard-bearer, Twitter users turned the confection into a meme. Melissa Alt, the pastry chef who created the Trump cake, tells Inverse that she's surprised by the attention given to her work, but happy about it.
Alt, who graduated Pratt Institute in New York last year and is now baking full-time in New Jersey, was initially contracted to bake a bust of Democratic nominee Hillary Clinton for a private event. She decided independently that it would be fun to do a matching cake for Clinton's Republican rival. Her manager alerted Donald Trump Jr. of the sweet delivery and things went from there.
"Trump didn't know; his son knew, and it's a surprise for him," Alt said.
Each cake took about 50 hours to bake, Alt said, and weighs about 40 pounds. From the neck down, the cakes are made of chocolate cake and covered in fondant. The heads, which are slightly larger than life-sized, are constructed of tin foil covered in modeling chocolate; a steel pole runs through the middle of the bust to keep it from falling over. Edible paint was used to detail the fondant and chocolate.
"It took me like 20 hours to sculpt just the heads," she said, noting that Trump's hair was actually the easiest part of the whole detailing process. Even so, it took two bags of modeling chocolate to create his signature coif, which weighs about 10 pounds alone.
"Baking Hillary was a little more difficult because Donald has very distinct features, so it was very easy for me to sculpt those," Alt said. "I also did Hillary first and then Donald, and the second time is always easier."
The image of the cake became meme fodder as soon as it was posted, with a number of Twitter users repurposing it to create various kinds of chuckles. It was both combined with existing memes and used as the basis of its own cyber-goofs, as you can see in the photos below.
As of press time, the cake depicting Hillary Clinton has yet to receive the same sort of attention, most likely because she doesn't look like she's melting into a pool of infinite sugar sadness.
Alt later told Hunter Walker of Yahoo! that she painted Trump's face with vodka: