'Stranger Things' Season 2 to Focus on Will Byers's "Struggle"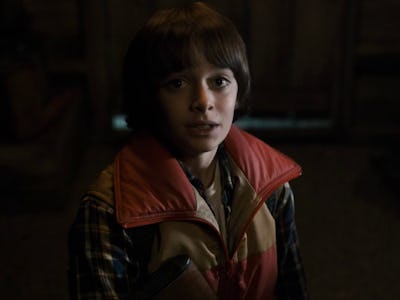 Netflix
Last time we saw Will Byers in Stranger Things Season 1 he was just about to sit down to a wonderful Christmas meal with his mom Joyce and his brother Jonathan, but took a little bathroom detour to vomit up an inter-dimensional slug courtesy of the Demogorgon that he picked up in the Upside Down. The future did not bode well for young Mr. Byers, and now we know Stranger Things Season 2 will specifically focus on Will's struggle to get back to normal.
Stranger Things producer and director Shawn Levy spilled some new information about the highly anticipated second season of the show, which just started filming, and it looks like Will's plight is going to be a more active focus when the show picks up a year after Season 1.
Levy told Collider:
Will Byers was in that Upside Down for a while. So Season 2 is about this determined desire to return to normalcy in Hawkins, in the Byers family, in that group of friends, and it's the struggle to reclaim normalcy and maybe the impossibility of it.
The first season primarily used Will's disappearance in the premiere as a MacGuffin to ferry the plot along. He was definitely a main part of the show, and we saw his relationship with his friends bookended in the first and last episodes. But he was more of a background narrative crutch for the show to portray how Mike, his friends, and Eleven banded together to figure out the show's main mystery.
Noah Schnapp, who plays Will, was upped to a main cast member for Season 2, so this news makes sense in the broader terms of what to expect. Series co-creator Ross Duffer told EW, "There's still more story here [in the 1980s], there's still things that are unresolved," and Will's behavior after this traumatic experience is number one on the list of unresolved things the show will be able to explore.