Marvel's 'Defenders' Are Stylin' With New Mondo Vinyl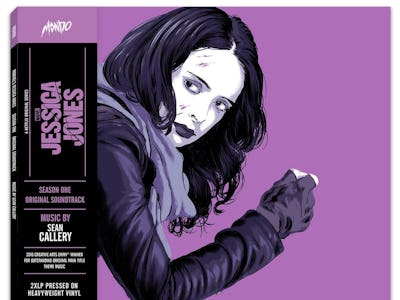 Mondo, Netflix, Marvel, Matthew Woodson
Jessica Jones and her super-bros might not be as big of a deal, commercially, as their Marvel Cinematic Universe counterparts, but Marvel's Defenders definitely have the most street cred in the MCU. The collective's (soon to be four) heroes — including Daredevil, Jessica Jones, Iron Fist, and Luke Cage — are to receive collector's edition vinyl soundtracks from Mondo, making them the coolest characters in Marvel's line-up.
Netflix and Marvel have received many accolades for their superhero collaborations: Jessica Jones won a Primetime Creative Arts Emmy Award for Outstanding Opening Theme Music for composer Sean P. Callery, Luke Cage doubled down on the brand's commitment to creating rich soundtracks by enlisting music producer Adrian Younge and A Tribe Called Quest's Ali Shaheed Muhammad to compose the show's music.
The soundtracks for Daredevil, Jessica Jones, and Luke Cage will all be available in vinyl releases, along with illustrations from artist Matthew Woodson. The 2XLP soundtracks will go on sale as limited run editions, with the Daredevil and Jessica Jones soundtracks pressed onto 180 gram red and purple vinyls, respectively.
YouTube film critic of Every Frame a Painting, Tony Zhou, recently highlighted the generic sound of the Marvel Cinematic Universe. Among other things, Zhou highlighted the fact that the Marvel films were guilty of borrowing sounds from various other movie soundtracks, causing the music of the MCU to sound largely unoriginal.
The Netflix series by contrast focus exclusively on creating original compositions for their shows, and as such often feature moments within the show set to unforgettable pieces of original music, like Jessica Jones's main title sequence, and the hallway fight in Daredevil. Hopefully the MCU will take notes from their Netflix counterparts and begin producing original compositions also worthy of such nice vinyl releases.
Daredevil and Jessica Jones Mondo soundtracks will release November 9, 2016.