'Trainspotting 2' Trailer Tackles Revenge Porn and Instagram
Danny Boyle's sequel is nearly here.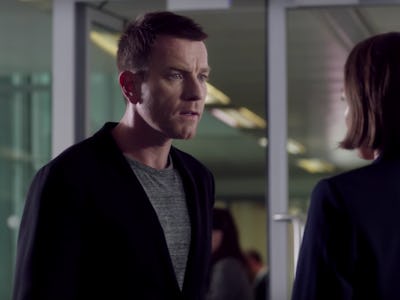 Sony Pictures Releasing UK/YouTube
Danny Boyle is back, 20 years after cult classic Trainspotting lifted the lid on heroin addiction in 1980s Scotland. The first official trailer for T2 Trainspotting arrived on Thursday, offering a glimpse into a tech-obsessed society, ravenous for Facebook and Instagram likes while atrocities like revenge porn lurk beneath the surface.
Ewan McGregor and Robert Carlyle join the rest of the 1996 cast to reprise their roles as Renton and Begbie respectively. Boyle confirmed in 2010 that the sequel will be "loosely based on Porno," author Irvine Welsh's sequel to his original Trainspotting novel. Finer plot details are scarce, though.
The original captured the spirit of the late '80s and early '90s, and based on the trailer, it seems the sequel will seek to do the same thing for a new generation, focusing on anxieties around modern life:
Choose reality TV, slut shaming, revenge porn. Choose a zero-hour contract, a two-hour journey to work and choose the same for your kids only worse, and smother the pain with an unknown dose of an unknown drug made in somebody's kitchen, and then take a deep breath.
Although Underworld's "Born Slippy" makes an appearance, "Silk" by north London four-piece Wolf Alice closes out the trailer, suggesting that although there's likely to be winks and nudges to the original, the film will forge its own path and avoid placing itself as a straight nostalgia trip.
T2 Trainspotting is set for release in UK theaters January 27, while a U.S. release in select theaters is due February 3. A wider, global release is scheduled for February 10.
Watch the full trailer here: