'Trainspotting 2': 5 Things We Know
What will the cult classic follow up be about?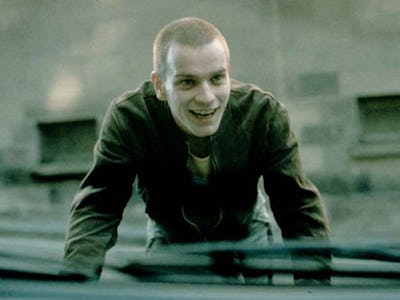 Facebook / TrainSpottingOfficial
The sequel to everybody's favorite Danny Boyle movie that isn't Slumdog Millionaire is on its way, at least according to a new teaser trailer. Sony Pictures UK just released a new clip for Trainspotting 2, which announced that the long in development sequel starts production today and the entire original cast is returning in full. Ewan McGregor as Renton, Jonny Lee Miller as Sick Boy, Ewen Bremner as Spud, and Robert Carlyle as Begbie are all back with Boyle directing and original Trainspotting screenwriter John Hodge returning as well.
The teaser is just a collection of footage from the original film along with the semi-iconic heroin-infused soliloquy from Renton: "Choose life. Choose hope. Choose faith. Choose meeting each new dawn as a chance to bring good into the world. Choose friendship. Love. Happiness. Clean living and positive thinking — yeah, right."
We know what you're thinking: How in the hell are they going to pull off a Trainspotting sequel, and will it be any good? Decades between sequels have never been a good barometer of quality, and cult classics getting sequels don't usually pan out well. But Trainspotting might be different. Here are five things to know heading into the sequel.
5. It's Been a Long Time Coming
Boyle has been working on the movie for over a decade, and had to work through personal squabbles and even scrapped the initial drafts he deemed unworthy to make the sequel happen. He told IGN in 2015, "We worked on a script original about 10 years ago, which we all felt wasn't good enough. I didn't even send that one to the actors because I knew they wouldn't do it."
He and Trainspotting lead actor Ewan McGregor also had a falling out after Boyle cast Leonardo DiCaprio over McGregor in Boyle's 2000 movie, The Beach. McGregor told The Scotsman in 2014, "It was an unfortunate situation which wasnt handled well. I was very upset but time has gone by and we put to bed bad feelings."
4. The Characters Will Be Old
Boyle was reluctant to jump into the sequel for practical reasons, mostly because the former heroin-addict characters needed to age appropriately. "I just want to wait until the actors are in their 40s. I could make it now," Boyle told The Scotsman, "but the problem is they all look the same. I want them to look ravaged by the passing of time."
The same should be of the audience too, at least according to Carlyle: "You are going to be thinking: 'Fuck. What have I done with my life?'"
3. It's Sort of Based on the Irvine Welsh Novel That Danny Boyle Didn't Like
Trainspotting author Irvine Welsh wrote a sequel in 2002 called Porno, which picked up ten years later and involved Renton's misadventures the nightclub scene in Amsterdam, but Boyle says the movie sequel is only loosely based on the book mostly because he wasn't a fan of the book. "That the book, Porno, is not a great book in the way that Trainspotting, the original novel, is genuinely a masterpiece, I think, as a piece of writing," Boyle told Moviefone in 2010. He elaborated a bit to Indiewire saying, "It's very loosely based on Porno. There's a couple of things that are based on the book, but obviously we'd have to have Irvine on board."
2. It Won't Go Anywhere
Trainspotting is a controversial Scottish classic, and appropriately enough Boyle and co. are returning to Edinburgh to shoot the sequel. Boyle posted on the Humans of Edinburgh Facebook page and said, "Coming back to Edinburgh has actually been really fascinating, since filming the first Trainspotting Edinburgh has changed dramatically."
1. It's Definitely Going to Be Called T2
Unfortunately the subtitle in the teaser isn't Trainspotting: Judgment Day, but Boyle reiterated to IGN that the name of the sequel will likely be a humorous reference to director James Cameron's own similarly titled sequel. "We're mentioning constantly T2 in the hope that James Cameron will become so familiar with that idea that he won't challenge it in the law courts," Boyle said, "But we don't know yet."
T2 is shooting now and is scheduled to hit UK cinemas on January 27, 2017. No U.S. release date has been announced yet.