Uber Will Soon Launch a New App That Learns Your Routines
"If you're a frequent rider you'll see shortcuts."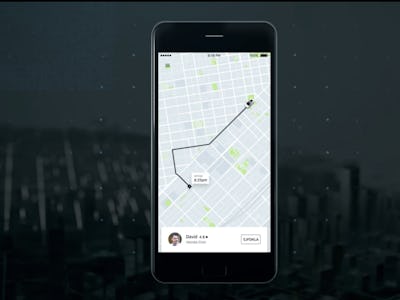 Uber
If you love Uber but think its app is overloaded with options and bit confusing to new users, your relief is almost here. On Wednesday Uber announced the impending arrival of its new "Where To?" app, which is going to make your commute more efficient than ever because of predictive technology.
And yes, there will be increased fare transparency, meaning you'll know the cost of your trip, down to the penny, before you book it.
Based on what we've seen of the app in materials released by Uber, here's what users can expect with the new version, which reportedly makes its debut in a few weeks.
Predictive Tech
In a blog post, Uber explained that the new app will remember your routine (locations, times, routes). For example, it might suggest that if it's 6 p.m. and you're at your office, you might be looking for an Uber to your apartment.
"If you're a frequent rider you'll see shortcuts that predict where you could be headed," Uber explains.
It will also sync with your events calendar so instead of having to dig through your email for an address, it will be right there when you need it. Considering Uber's GPS is not always the best at picking up on an address, this new feature could be a huge timesaver.
"The app learns from your ride routines and makes suggestions based on your location and the time of day," Uber explains in publicity materials. "So if you Uber to work in the morning, the gym in the afternoon, or class on Tuesday nights, where you're going might already be figured out."
Cleaner Design
The redesign is a huge step in making the service, with its seemingly complex array of options, more user-friendly.
"Honestly if you're using this, you can't even tell what is Select, what is Access. Is Access a VIP service? Well actually what it is, is a wheel-chair disability service," Uber CEO Travis Kalanick told reporters this week. "We needed a new system to deal with the growing set of features that were sort of piling up on the older design."
Up-Front Pricing
A new toggle screen on the app also makes it easier for users to compare costs and arrival times for ride options upfront. The company is hoping that the transparency will boost the use of its cheaper "UberPool" service that allows users to share rides with strangers.
Integrated Features
Uber users have been able to sync their Spotify with their driver's stereo for a while, but the new app will allow them to also order food and use exclusive Snapchat filters.
Release Date
Uber says that the new app is "coming soon" and users can request advanced access on its site. While faster service and a more engaging app experience is great, after Uber's self-driving car launch this summer and recent flying car announcement, it looks like it's finally doing some much-needed app renovations, too.