Live-Action Indie Games Are the New Hotness
Like, LARPing with puzzles. Wait, come ba--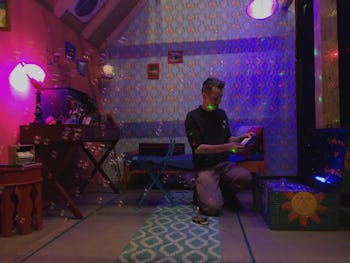 Martzi Campos
IndieCade 2016 came and went in Los Angeles in October and with it some of the best indie games currently in development. One visible, though surprising trend was the prevalence of "live-action" games — games that required no screen or controller, just a script and some role-playing.
Described as the "Sundance" for video games, IndieCade is an annual festival and awards that have since become one of the major events for indie video game developers who submit their projects to a festival jury for recognition within the video game community. There are similar festivals throughout the year, but IndieCade is perhaps the most prestigious.
For a festival celebrating independent video games, live-action games might seem like an anachronism. That's why among the VR headsets, mobile devices, and PC demos, the tables full of scripts, props, and sometimes even full sets instantly stood out.
Nominated games like Bad News, Hamlet-Mobile, Keeping the Candles Lit, and Séance were just some of the games that could be broadly categorized as live-action experiences: games that don't involve interactions with a controller and screen, but rather human interaction with physical objects and spaces.
One of these games, Beautiful Corner, is a live-action game that utilizes a fully built set in which players navigate what appears to be an attic bedroom. Players solve physical puzzles (much like a puzzle room or escape room) in order to complete objectives and progress the in-game narrative.
Described as a "narrative installation," Beautiful Corner puts players physically in the role of Avery who visits the attic bedroom of his childhood friend, Alex, in order to solve his disappearance and revisit the story of their shared past, how two close friends from summer camp navigated magic and coming of age.
"I have a background in fine arts with a focus in installation, so I've always had a passion for physical space," Beautiful Corner designer Martzi Campos explained to Inverse when asked why she pursued a live-action experience as a game concept.
"My biggest complaint about some fine art installations is that they are still only experienced visually. People are often afraid to touch or interact," said Campos. "I have always said that if my work could achieve the results for adults that a McDonald's play place does for kids, then it would have achieved my goal."
Within Beautiful Corner's interactive set, players can open drawers, examine hidden clues, and solve mechanical puzzles. Far more interesting than the slides and whistles found at a McDonald's play place, but an apt comparison nonetheless. As to why there was a need for such an elaborate set in the first place, Campos explained it's because "as we age we lose that ability [to pretend], and it becomes harder and harder to enter imaginary realms." In contrast, she wants "to create works that act as bridges as well as destinations."
The level of attention to detail is Beautiful Corner's biggest draw, but once players find themselves within its confines, it's hard not to get swept up in the story. The player's main objective as Avery is to use old letters exchanged between the two friends to piece together the clues and discover why Alex has disappeared. Props, music, and lighting all contribute to the game, making the experience akin to acting within a play while still providing the "gameplay" of traditional interactive experiences.
But Beautiful Corner was just one of the interactive games present at IndieCade. While it stood out for its sheer scale, there must have been some reason why 2016 was the year in which live-action experiences were seemingly IndieCade's unofficial theme.
"I think there are several reasons for it," said Campos when posed the question. "First is just the continuing expansion of what a game is and who can make them." She went on to mention that video games are slowly entering the world of theater and installations as the demand for interactivity in all things increases.
"In terms of the gaming community," Campos continued, "I hope that it just means it will continue to expand and grow, and that digital and physical games can influence each other and combine in exciting ways!"
As virtual reality and augmented reality games have recently emerged as the new frontier in entertainment, it might be wise to look at the rise of live-action, physical games within the indie community as a sort of broader horizon in which games are evolving. Rather than a move towards "older" forms of play, live-action games seem to be a new vertical in which the demands for new ways of interaction are evolving. Soon, perhaps LARP (Live-Action Role-Play) sets will be sold alongside VR headsets as two distinct, unique ways in which to physically interact with a game space or narrative.