Tech Is Ruthless: Someone Vandalized a Tesla with Its Stock Price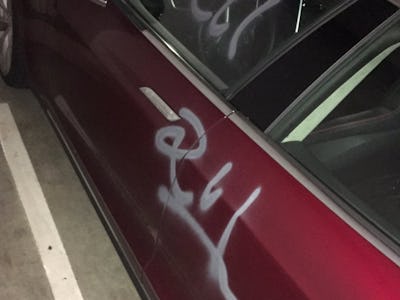 Morgan Missen/Twitter
Because Silicon Valley is a parody of itself, somebody in San Francisco appears to have tagged a Tesla car with the company's stock price in the hours following Elon Musk's quarterly earnings call on Wednesday night.
Morgan Missen, the founder of the tech recruiting and talent consulting company Main, tweeted a picture of the, uh, interesting vandalism.
"In the most San Francisco crime ever, someone tagged my neighbor's Tesla with its afterhours stock price," she wrote. "His other Tesla appears unharmed."
Tesla shares soared on Wednesday following Musk's announcement that the electric car company has posted its second-ever quarterly profit. It's their first net profit since the first quarter of 2013.
As you can see on the tagged car, Tesla's after hours share price was 211.
It's unclear why Tesla's impressive quarter would drive someone to be a tech and finance Banksy, and yet, here we are in the year 2016.
Luckily, the owner of the vandalized car will be able to drive around without unintentionally displaying street art of the company's stock price, because, as Missen notes, he has another Tesla that was left untouched.
During the earnings call, Musk also laid out Tesla's three top priorities for the future, which were achieving a regular schedule for the Model 3, advancing the autopilot software to self-driving hardware, and hitting a 100kWh production rate.
One can only imagine what type of graffiti we'll see when Musk achieves those goals.