Democrats Didn't Kill the Coal Industry, Technology Did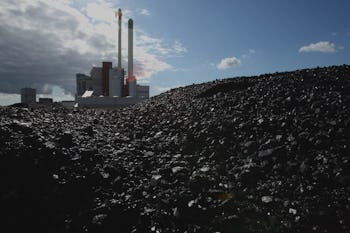 Getty Images / Sean Gallup
A director for the Institute for Energy Economics and Financial Analysts (IEEFA) said on Sunday that coal's decreasing importance to America's electric grid can be attributed not to politics, as some like to think, but instead to steady improvements that have been made to solar and wind energy.
"Solar generation acts to keep energy market prices low during periods of peak demand. Wind generation puts pressure on market prices in both peak and off-peak hours," IEEFA director of resource planning analysis David Schlissel explained. "The collective effect of solar and wind, is making coal-fired electricity less and less financially viable."
Schlissel's comments were made into an op-ed for the Pittsburgh Post-Gazette about the problems faced by the coal industry. Burning coal produced 50 percent of the United States' electricity just a decade ago, Schlissel explained, but today that number has dropped down to right around 30 percent.
Coal companies aren't even able to export much of the stuff: The U.S. Energy Information Administration (EIA) reported on October 13 that U.S. coal exports will decline this year to their lowest level in the last decade. Coal's value has fallen and will likely stay low for the foreseeable future.
That's why one of the world's largest coal companies [filed for bankruptcy in April[(http://insideenergy.org/2016/04/13/peabody-energy-files-for-chapter-11-bankruptcy/). The industry is facing nigh-unprecedented pressure in both the domestic and international markets, and now it's struggling just to survive, let alone reclaim its former glory.
Solar doesn't have that problem. EIA reported earlier this month that solar power has been the fastest-growing source of renewable energy in the United States for the last three years, and it's expected to continue this rapid growth in the years to come.
Wind energy is also becoming more popular. America's first wind farm is nearing completion and other countries are building their own farms.
The result is a one-two punch on the coal industry that has been far more effective than what Republicans have called the "war on coal."
"Coal does not have a regulation problem, as the industry claims," Schlissel said in his op-ed. "Instead, it has a growing market problem, as other technologies are increasingly able to produce electricity at lower cost. And that trend is unlikely to end."
Politics isn't killing the coal industry. Renewable energy is, and as the technology behind solar and wind energy continues to make them more popular, the world is going to rely on coal even less than it does now.