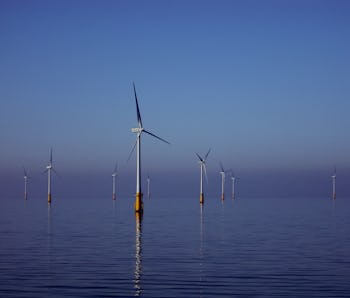 Entertainment
America's First Offshore Wind Farm Nears Completion
Block Island Wind Farm is scheduled to start producing energy this Fall.
Wikipedia
America's first offshore wind farm should be commissioned to create that sweet, breezy, renewable energy off the coast of Rhode Island sometime this fall.
Block Island Wind Farm will enter the final stage of construction in August in what creator Deepwater Wind calls a "complex operation that will feature some of the industry's most innovative offshore wind technology and a world-class team of dozens of workers and specialists."
The 30-megawatt offshore wind farm is expected to provide "most of" Block Island's power once construction finishes and the switch is flipped. (I'm sure the process will be much more complicated than that, but let's stick with switches and windmills.) It will also serve as a proof of concept for more projects off the coast of Long Island and along the sea between New York and Massachusetts.
"It's go time," Deepwater Wind chief executive Jeffrey Grybowski said in the Block Island Wind Farm announcement. "We're ready to bring this historic project across the finish line. This is sure to be a momentous summer – not just for this project, but also for the start of a new American industry." That sounds like hyperbole, and to a certain extent it is, but Grybowski isn't just blowing hot air. (Pun intended.)
Block Island Wind Farm is part of a growing movement toward renewable energy, and not just in the United States. The world's largest wind farm is going to be built off Scotland's shores and is expected to generate enough power for 19,900 houses when it's ready in 2017.
Another wind farm off the coast of New York could do more than reduce the city's reliance on non-renewable energy resources: It could also create new, protected ecosystems for algae, fish, and other sea life. (The research behind that claim, while promising, is still in its early stages.)
Then there's Tesla's recent shift in focus from transportation to energy. Elon Musk's brainchild is no longer focused solely on making vehicles that don't rely on gasoline — it's also making batteries, buying up SolarCity, and building a GigaFactory to support it all.
Those projects are all in their early stages. Block Island Wind Farm will be the first to go from concept to reality, and the world will be watching its progress.