Rey Almost Watched Vader Fight Luke Skywalker on Cloud City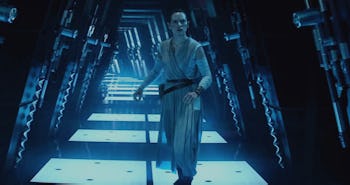 Disney/Lucasfilm
Rey's dream-like vision in Star Wars: The Force Awakens originally included an iconic scene in The Empire Strikes Back, complete with Darth Vader on Luke Skywalker lightsaber action.
As J.J. Abrams's director's commentary for the forthcoming Collector's Edition Blu-ray version of The Force Awakens continues to eek out, another long-rumored detail has been confirmed. Early cuts of the movie would have seen Rey witnessing a much longer — and familiar — flashback. In a segment on the official Lucasfilm Star Wars Show, Abrams had this to say about the scene pivotal scene:
"She discovers something [(the lightsaber)] which of course has no meaning to her — she's never seen this before, doesn't know what it is — but has meaning to the audience. Touching the lightsaber triggers what we called "the Forceback." There were many iterations of this. In one, from this Cloud City corridor, she looked down and saw Vader fighting Luke."
Abrams explains the decision to cut the sequence was connected to making sure the "Forceback" scene was more personal and centered on Rey herself. In one way, this could be read as read-between-the-lines confirmation that Rey is Luke's daughter. But it could also be read as just the opposite: Because the scene was cut, the emphasis on the connection between Rey and Luke was diminished, or at least, made hazier. For now, we can only imagine how Rey would have reacted to seeing the infamous "I am your father" conversation between Darth Vader and Luke Skywalker.
Star Wars: The Force Awakens 3D 4-Disc Collector's Edition released on November 15 in the U.S.