How to Watch NBA Games in Virtual Reality This Season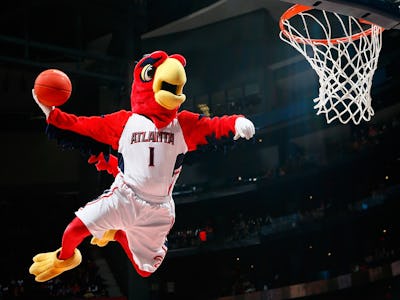 Getty Images / Kevin C. Cox
The NBA is going all in on virtual reality. The league announced on Thursday that it is going to broadcast at least one basketball game a week in VR as part of its partnership with NextVR.
It's not the first time that basketball fans will have been able to experience a game in virtual reality. In March, the NCAA teamed with Samsung to let viewers watch the Final Four games in VR. The NBA's announcement, though, means this increasingly popular technology has hit the major leagues.
"This programming marks the first regular schedule of live games delivered in VR by a professional sports league," the NBA said in a release.
VR viewers will be able to watch the game from multiple camera angles, complete with announcers and optimized graphics, and experience bonus content like in-venue entertainment and behind-the-scenes moments during breaks in the game.
In order to watch NBA games in VR, viewers need to have a full-season NBA League Pass subscription, which costs a smooth $200. After purchasing the pass, either through a cable subscription or on its own, viewers then need to have Samsung's Gear VR and the NextVR app to watch, though the NBA says they'll support additional headsets soon.
The first game to be broadcast in VR will go down on October 27th, when the Sacramento Kings play the San Antonio Spurs. The full schedule of VR games will be released at the end of the month.