Why 'Space Jam 2' with LeBron James Will Top the Original with Michael Jordan
A long-rumored sequel to the Looney Toons basketball film is officially happening.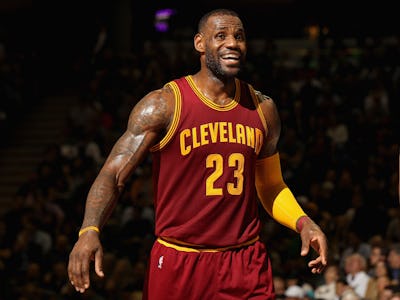 Getty Images
LeBron James has spent his whole career trying to Be Like Mike, and on Monday, Warner Bros. announced that James will star in a sequel to the ridiculous and beloved 1996 basketball-cartoon hybrid flick Space Jam, giving the superstar another lane in which he can follow in Air Jordan's footsteps.
While it's an obvious reflex to balk, a 20-year-later sequel in this era of forced franchises and intellectual property abuse, there's actually a solid chance that this version which will likely be directed by Fast and Furious and Star Trek vet Justin Lin — and will be a big improvement on the original.
James idolized Jordan growing up, and wears both his jersey number (23) and Nike shoes to honor the legend. "Without MJ, there's no me," James told ESPN in 2013. "He gave me hope. He gave me inspiration as a kid."
As a competitor who models himself after Jordan, James has stated over and over again that his mission is to surpass MJ and become the greatest player of all time. That may not happen — at 31, James only has two NBA championships, while Jordan won six titles — but this movie gives him a chance to definitively outshine his idol.
When not viewed through the very rosy glasses of childhood nostalgia, it's clear that Space Jam was a bit of a wreck. Not that it was ever intended to be more than a massive marketing experiment (its website was so great, it's still up today), but Jordan was such a bad actor that every scene he's in looks like a bunch of happy cartoon characters (and Wayne Knight) swirling around a black hole of misery.
The scene in which Jordan yells at Porky Pig and the rest of the Tune Stars (the name of the Looney Toons all-star team) in the locker room at halftime is the one time he actually seems at all engaged in what he's doing.
LeBron, on the other hand, proved himself a surprisingly competent comedic talent when he took a sizable role in Amy Schumer's hit rom-com, Trainwreck. The way he sold his obsession with Cleveland and protectiveness over his pal Aaron (Bill Hader) helped him hold his own in that star-packed movie.
Meanwhile, technology has come a long way since the original Space Jam, and few directors have been so adept at using it to supplement action-packed popcorn storytelling as Lin, who revived the Fast franchise with a series of increasingly insane sequels. How he will integrate the very cartoonish world of the Looney Toons and the various real-world NBA players one assumes James will recruit remains to be seen, but the bet here is that he will settle on a level of realism that far surpasses the obvious green screen scenes into which Jordan and his NBA teammates were stitched.
In a way, it's disheartening to see studios rely so heavily on sequels to movies that aren't obvious franchise gold mines — the Looney Toons have lost a lot of relevance over the last 20 years — but if Warner Bros. is insistent on exploiting every opportunity possible, at least they recruited a likable and personable player this time.