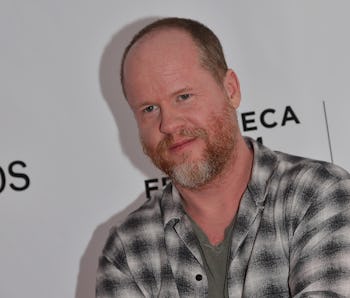 Entertainment
Joss Whedon Wants to Make a 'Star Wars' Movie Thanks to Rogue One
Joss Whedon's back and he wants to direct a 'Star Wars' film.
Getty Images / Ben Gabbe
Despite having been "beaten down" by Avengers: Age of Ultron, Joss Whedon hasn't entirely ruled out another adventure with a big budget sci-fi film. In fact, the filmmaker is even up for getting back in bed with Disney, at least under the right circumstances.
Though franchises can be limiting, Whedon told Complex that the chance to add a new interpretation to someone else's universe can be attractive. Which is why he wants to do a Star Wars movie — so long as he gets to do it his own way.
"Do I want to make a Star Wars movie? Yeah," he told the website. "I was like, "I don't want to make a Star Wars movie. Like, god dammit, why?" But I saw the trailer for Rogue awhile ago and I was like, "I want to do that." To make a Star Wars movie and not be wed to the bigger picture."
This falls in line with previous comments Whedon's made about what he'd do with a potential Star Wars film. When asked for his thoughts on bringing some of the original characters back to the new films, Whedon told Digital Spy, "I wouldn't go back, I'd go forward. I would want to create characters that would resonate the way they did. Not that he doesn't want to see the characters, but, "I also feel like I would want to explore a very different part of that universe."
The rumors of a Joss Whedon directing a Star Wars film are hardly new. The conversation came up in 2013, then again in 2015, and though Whedon makes no remark about actually doing it, his comments have reignited the conversation about what a Whedon Star Wars movie might look like.