Watch Rachel McAdams Friendzone 'Doctor Strange' for Being a Douche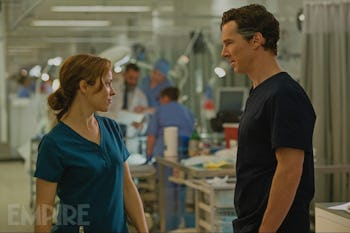 Marvel Studios, Empire Magazine
In a new clip for Doctor Strange, Rachel McAdam's lays down her "policy" when dealing with a douchey Dr. Strange.
In the film, McAdams plays Christine Palmer, aka the Night Nurse (not to be confused with Netflix's Claire Temple who has attributes of both the Night Nurse and her comic book counterpart). While her full role in the film is still a mystery, it's clear that she's a colleague to Stephen Strange pre-hand accident. She's also something of a romantic interest to him, or at least that's the "implication" given that Strange is both bad at flirting and fairly narcissistic.
Frankly, it's unclear if he's even romantically interested in her or if he just likes having dates to his official engagements; you know, classic douchebag behavior. Luckily, Palmer seems to have developed her "Strange Policy" for exactly these kinds of moments, warding off Strange when he decides to throw his surgeon weight around.
It's a little strange that McAdams is playing the official Night Nurse when it seems like her character is a fellow surgeon — or at least a surgical nurse given that they collaborated together in creating a new surgical technique.
It's also a little jarring to know that the comic book Night Nurse will be in Doctor Strange when Rosario Dawson spent four seasons on Marvel's Netflix shows establishing herself in a similar role. She is even referred to as "Night Nurse" in Luke Cage. It will be interesting to see where these two characters diverge with each other, or even better, encounter one another within the Marvel Cinematic Universe.
Doctor Strange releases in theaters November 4, 2016.