What's Leaving Netflix in November 2016
We'll never forget you. 👋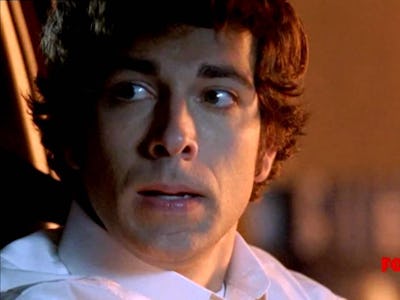 Youtube/Fox
Good news is often tempered with bad, much like new additions to Netflix always come with departing shows and movies. We're sorry to be the bearers of bad news, but November is no different — we have to say goodbye to some classic titles.
From The Addams Family to Legally Blonde to E.T. the Extra-Terrestrial, some truly great movies are departing Netflix to make way for a plethora of newbies. Spend some time this November in Bikini Bottom with The Spongebob Squarepants Movie and catch all three of the Open Season movies (yeah, we didn't know they'd made three of those things either, but here they are).
And don't forget our soon-to-be dearly departed television shows. Powerpuff Girls, Chuck, The Boondocks, Chowder, and Courage the Cowardly Dog are all on their way out.
We've still got a little more time before we have to part ways with the below titles, so feel free to hole up in your room and refuse to leave until you've successfully binged what you've been putting off on your Netflix list.
Leaving 11/1
The Addams Family (1991)
Almost Famous (2000)
Angel Heart (1987)
Barnyard (2006)
Bratz: The Movie (2007)
The 'Burbs (1989)
Can't Hardly Wait (1998)
Chuck Season 1-5
The Core (2003)
Deliverance (1972)
E.T. the Extra-Terrestrial (1982)
Echelon Conspiracy (2009)
Eight Crazy Nights (2002)
Empire State (2012)
Equilibrium (2002)
Escape to Witch Mountain (1975)
The Family Man (2000)
Fatal Attraction (1987)
Fresh (1994)
Get Rich or Die Tryin' (2005)
The Holiday (2006)
Into the Wild (2007)
Kangaroo Jack (2003)
Legally Blonde (2001)
Legally Blonde 2: Red, White & Blonde (2003)
Major League (1989)
Mansfield Park (1999)
Meet Joe Black (1998)
Mel Brooks: Make a Noise (2013)
Open Season (2006)
Open Season 2 (2008)
Open Season 3 (2010)
Patton Oswald: My Weakness Is Strong (2009)
Powerpuff Girls Season 1-6
Rounders (1998)
Scream 2 (1997)
Sex: My British Job (2013)
Shameless Series 1-10 (UK)
Sky Captain and the World of Tomorrow (2004)
Something's Gotta Give (2003)
The Spongebob Squarepants Movie (2004)
Spy Game (2001)
The Sum of All Fears (2002)
Total Drama World Tour (2014)
Underground: The Julian Assange Story (2012)
Urban Cowboy (1980)
Varsity Blues (1999)
What Women Want (2000)
Leaving 11/2
The English Teacher (2013)
Leaving 11/4
Gigli (2003)
Leaving 11/5
The Homesman (2014)
Leaving 11/11
Quartet (2012)
Leaving 11/14
Seal Team 8: Behind Enemy Lines (2014)
Leaving 11/15
Naked Among Wolves (2015)
Leaving 11/16
The American (2010)
Let's Go to Prison (2006)
Leaving 11/22
Tracers (2014)
Leaving 11/23
The Boxtrolls (2014)
Scenic Route (2013)
Ultimate Spider-Man: Web Warriors (2015)
Leaving 11/24
The Boondocks Season 1-4
Chowder Season 1-3
Courage the Cowardly Dog Seasons 1-4
Uncle Grandpa Season 1
Leaving 11/25
Robin Hood (1973)
Leaving 11/30
Stuck in Love (2012)
xXx (2002)