What's New on Netflix for November 2016
Christmas, war, and Stars Hollow go together, right?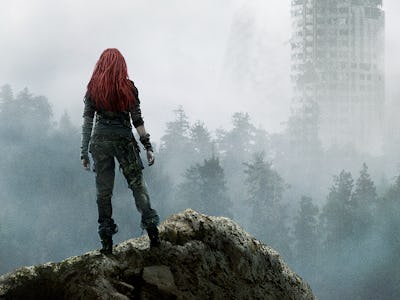 The CW
The leaves have begun to turn and October is coming to a close, which means it's time for the November Netflix roundup. We've gotten a look at Turkey month's lineup, and it's just as random and wonderful as expected.
After October's horror film dump, it's time to sit back and relax with some trusty, heart-warming Christmas classics. Thomas & Friends: Ultimate Christmas, Bob the Builder: White Christmas, and Jackass 3.5: The Unrated Movie all fit under that category, right?
And in preparation for Veterans Day, November 11, we'll be getting a roundup of 1940s-era war films later in the month that are arriving suspiciously late.
But, no matter. The biggest Netflix news in November is undoubtedly the return of Lorelai and Rory Gilmore for Gilmore Girls: A Year in the Life. Fans have been waiting in anticipation of the four-episode special series since the show's seventh (and final) season in 2007. And it's finally here (almost)!
So, below, you'll find a comprehensive list of everything new coming to Netflix in November.
Available 11/1
The African Queen (1951)
Alfie (2004)
Bob the Builder: White Christmas (2008)
Candyman 2: Farewell to the Flesh (1995)
The Confessions of Thomas Quick (2016)
Cujo (1983)
The Doors (1991)
The Heartbreak Kid (2007)
Jetsons: The Movie (1990)
King's Faith (2013)
Love, Now (2012)
Norman Lear: Just Another Version of You (2016)
Pervert Park (2014)
Ravenous (1999)
Stephen King's Thinner (1996)
Tales from the Darkside: The Movie (1990)
Thomas & Friends: A Very Thomas Christmas (1990)
Thomas & Friends: Holiday Express (2012)
Thomas & Friends: Merry Winter Wish (2010)
Thomas & Friends: The Christmas Engines (2014)
Thomas & Friends: Ultimate Christmas (2009)
Available 11/2
Dough (2015)
Food Choices (2016)
Meet the Blacks (2016)
Available 11/4
The Crown Season 1 — NETFLIX ORIGINAL
Dana Carvey: Straight White Male, 60 — NETFLIX ORIGINAL
The Ivory Game (2016) — NETFLIX ORIGINAL
Just Friends (2005)
World of Winx Season 1 — NETFLIX ORIGINAL
Available 11/9
Danger Mouse Season 2 — NETFLIX ORIGINAL
Available 11/11
All Hall King Julien Season 4 NETFLIX ORIGINAL
Case Season 1 — NETFLIX ORIGINAL
Estocolmo Season 1 — NETFLIX ORIGINAL
Roman Empire: Reign of Blood Season 1 — NETFLIX ORIGINAL
Tales by Light Season 1 — NETFLIX ORIGINAL
True Memoirs of An International Assassin (2016) — NETFLIX ORIGINAL
Under the Sun (2015)
Available 11/12
Take Me to the River (2015)
Available 11/13
Chalk It Up (2016)
Available 11/14
Carter High (2015)
Available 11/15
Dieter Nuhr: Nuhr in Berlin — NETFLIX ORIGINAL
K-POP Extreme Survival Season 1
Men Go to Battle (2015)
The Missing Ingredient: What is the Recipe for Success? (2016)
Available 11/16
The 100 Season 3
Burn After Reading (2008)
Jackass 3.5: The Unrated Movie (2011)
Paddington (2014)
Available 11/17
Lovesick Season 2 — NETFLIX ORIGINAL (Formerly known as Scrotal Recall)
Paranoid Season 1 — NETFLIX ORIGINAL
Available 11/18
The Battle of Midway (1942)
Beat Bugs Season 2 — NETFLIX ORIGINAL
Colin Quinn: The New York Story — NETFLIX ORIGINAL
Divines (2016) — NETFLIX ORIGINAL
Prelude to War (1942)
San Pietro (1945)
Sour Grapes (2016)
Thunderbolt (1947)
Tunisian Victory (1944)
Undercover: How to Operate Behind Enemy Lines (1943)
Why We Fight: The Battle of Russia (1943)
WWII: Report from the Aleutians (1943)
Available 11/22
Mercy (2016) — NETFLIX ORIGINAL
Available 11/23
Penguins: Spy in the Huddle Season 1
Available 11/25
3% Season 1 — NETFLIX ORIGINAL
Boyhood (2014)
Gilmore Girls: A Year in the Life — NETFLIX ORIGINAL
Michael Che Matters — NETFLIX ORIGINAL
Available 11/29
Silver Skies (2016)
Available 11/30
Ghost Team (2016)
I Dream Too Much (2016)
The Jungle Book (2016)
Level Up (2016)
Traded (2016)