The 4 Best Podcast Apps for iPhone in 2016
Replay 'Serial' in a whole new setting.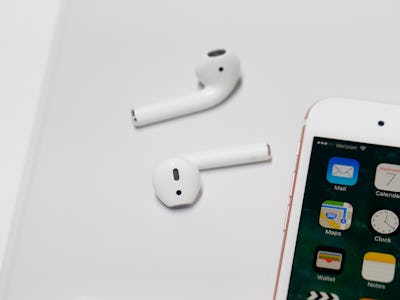 Getty Images / Stephen Lam
Podcasts are huge, and they're only getting bigger. If you've ever been overwhelmed by the sheer number of podcasts, podcast apps, and individual programs on the iTunes store, we're here to help.
Data from Convince and Convert found 57 million Americans listen to podcasts, a number that grew 23 percent year over year. With Serial turning a whole new generation onto radio crime thrillers, and My Dad Wrote a Porno turning a whole generation onto, well, writing a porno, there's never been a better time to supercharge your listening experience.
Parsing through the flooded market of can be difficult, and you'll need a good app to do it when the iPhone's default app doesn't quite have what you're looking for. Here are four of the best alternative podcast apps for the iPhone.
Overcast was long respected as a solid alternative to the Podcasts app, but developer Marco Arment made waves in October 2015 when he announced he would give it away for free. Fans love its cool smart speed function that cuts out silences. That may be good for amateur productions, but for high-quality podcasts it may remove intended dramatic pauses. The Verge criticized the feature for destroying good production values, but if you really want to get to the heart of the story and fast, it can't be beat.
Pocket Casts boasts a gorgeous design. Your collection is displayed in a seamless stream of covers, woven together into a simple interface that places podcasts front and center, while the Now Playing screen features a blurred background that looks like it could've been designed by Apple. The app also has Overcast's silence-skipping feature, but at $3.99, Arment's free app may look like a better bet.
A radio for your podcasts! Stitcher collects together your favorite shows and plays them together. The resultant personalized audio feed is shareable with friends, while breaking news gets pushed to the front page. The app even has a web version for listening through the browser.
Someone that collects podcasts? Downcast is for you. The app features a multitude of storing and organization options, allowing users to move podcasts into iCloud, renaming, browsing, downloading and playing back podcasts with more options than you'll probably know what to do with. If you're serious about storing every episode of This American Life known to man, get Downcast.
Honorable mention: Stock app
Look, the stock app isn't bad. Sure, Apple fans were overjoyed when they found it they could remove the purple icon in iOS 10, but it's hard not to appreciate the simplicity. It works across Apple TV, Mac, iPhone and iPad seamlessly. It's built in, has an easy-to-use library of podcasts, and you don't need to mess around with any odd pricing structures. The four above offer some of the finest features podcasting has to offer, but if you're not too fussy, you can't go wrong with Apple's offering.